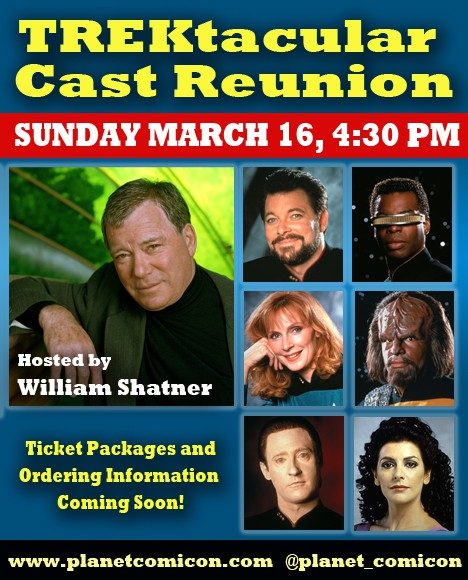 Press Release:
Planet Comicon is thrilled to announce a special Sunday-only appearance of William Shatner. He will be available on a limited schedule for photos and autographs on March 16, 2014 only.
Mr. Shatner became an entertainment legend as Star Trek's Captain James T. Kirk, leading the U.S.S. Enterprise through its original television run and seven blockbuster films. The winner of two Emmy awards, he has starred on series including Boston Legal, Rescue 911, and TJ Hooker.
He has also written dozens of fiction and non-fiction books including ten Star Trek novels, his own TekWar series, and memoirs including Star Trek Memories, Up Till Now: The Autobiography, and Shatner Rules. He has appeared documentaries related to Star Trek, including How William Shatner Changed the World and The Captains.
Find out more about William Shatner on his official website and follow him on Twitter as @WilliamShatner.
A RARE REUNION EVENT:
Meet the cast of Star Trek: The Next Generation on stage together… moderated by living legend William Shatner!
Join us for a Star Trek: The Next Generation cast reunion plus special guest moderator, William Shatner. Six ST:TNG cast members will join the Mr. Shatner on stage Sunday, March 16, starting at 4:30 p.m. at Planet Comicon in the Kansas City Convention Center.
LeVar Burton, Michael Dorn, Jonathan Frakes, Gates McFadden, Marina Sirtis, and Brent Spiner will appear for an insightful 90-minute conversation led by master of ceremonies William Shatner. The actors will explore the essence of what made this amazing cast one of the most loved in the history of television and film.
Prepare to laugh the evening away, as these cast members have remained best friends and love to make fun as they reveal memorable stories about themselves and each other. Mr. Shatner — along with the audience — will pose no-holds-barred questions during a casual 90-minute event. It may be explosive, it may be tearful, but it will unquestionably be lots of laughs.
This event will require separate tickets, and many admission levels will include special bonus perks. More information about ticket packages will be announced shortly. Tickets for the Planet Comicon Trek-tacular will be available online beginning January 22nd. Seating is limited, so be prepared to purchase your tickets early. See you there!