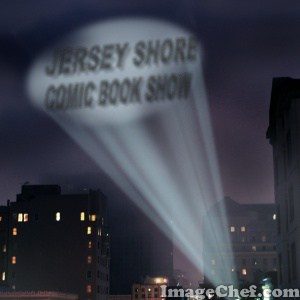 Convention Name

Jersey Shore Comic Book Show

Convention Website Address
http://jerseyshorecomicbookshow.com/
This convention will take place:
Date (Format mm/dd/yyyy)

03/02/2014

About This Convention
Grab your Tropical Shirts, Sandals, Grass Skirts, Coconuts and think Tropical paradise! That's right, Jersey Shore Comic Book Show will be hosting a CABIN FEVER COMIC BOOK "Oscar" SHOW to be held on Sunday March 2, 2014 at the Knights of Columbus Hall located at 15 East Lacey Road in Forked River, New Jersey, from 10am to 4pm !
Guest Artists will be: Neil Vokes, Howard Bender, David Hardy, "The Janimal" Jan Marc Quisumbing, Paris Cullins (Blue Devil), Michael Grassia, Edward Dippolito, Emilio Velez, Jr. Plus Marvel Comics colorist Tom Smith and writer Bryan J.L. Glass (Thor). Also appearing will be GI Joe cosplay outfit, The Civil Defense 13th Mobile Infantry Division, as well as Star Wars cosplay outfit, The Mandalorian Mercs, both to be a sure hit with kids of all ages!
Admission to the show is FREE ! There will be door prizes, $how Ca$h, and (being that it is Academy Award/Oscar Night) "Oscars" for best artist, best dressed, funniest, etc…Sounds like Fun, doesn't it? Well, it sure will be loads of Fun for sure and you certainly do NOT want to miss out on all the fun either, so COME ON OUT AND JOIN US FOLKS!!!
For more information see our Facebook page: JerseyShoreComicBookShow.com OR Call:(609) 242-7756 or drop us an e-mail @ howellmanforyou@aol.comDEALER/VENDOR TABLES AVAILABLE Tables are 6 ft. tables for $50
Venue Name and Address
Knights of Columbus Hall
15 East Lacey Road
Forked River, NJ 08731
United States
Map It
Number of Dealer/Exhibitor Tables

45

Projected Attendance

300

Please select the Category that best describes the convention

Comic Books

Additional Categories

Anime
Science Fiction and Fantasy
Collectibles

Guests

Neil Vokes, Howard Bender, David Hardy, "The Janimal" Jan Marc Quisumbing. SURPRISE GUESTS to be announced at later date!