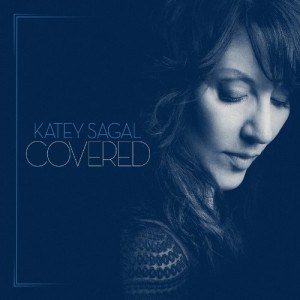 Katey Sagal (Sons of Anarchy, Futurama) appears at Amoeba Music for a CD signing on Wednesday, December 11, 2013 at 6:00pm!
Press Release:
Singer-songwriter and Golden Globe Award winning actress Katey Sagal celebrates her new album, "Covered" (out now on Entertainment One), with an in-store CD signing at Amoeba Hollywood. Purchase your copy at Amoeba to attend this special pre-holiday signing!
Signing details/info:
– Must purchase CD at Amoeba (and have receipt/ticket) to attend the signing event.
– Katey will sign your copy of "Covered" and ONE additional item of fan's choice if desired. (Limit 2 CD purchase per person – with same ONE additional item signed per CD).
– Photos will be taken at the signing table with fans by Amoeba photographer and posted online for download post-event. No personal cameras/photography at the event.
– Space is limited – you may purchase your CD in advance of the event to guarantee admission.
Bio:
Currently, Sagal stars on the FX drama "Sons of Anarchy," which began its sixth season on September 10, 2013. "Sons of Anarchy" is a gritty, one-hour drama about a notorious outlaw motorcycle club in Northern California who fights to protect their small town from drug dealers and local corporate developers. Sagal plays 'Gemma,' the maternal matriarch of the club and won her first Golden Globe, "Best Performance by Actress in a Television Series – Drama," for the role in 2010. She has also been nominated two years in a row by the Broadcast Television Critics as "Best Actress in a Drama Series."
Prior to her success on "Sons of Anarchy," Sagal starred in the ABC series "8 Simple Rules…," alongside the late John Ritter and continues to be the voice of 'Leela,' a beautiful one-eyed alien, in the Comedy Central animated series "Futurama." Sagal has had roles in the independent films "I'm Reed Fish" and the tele-film "3 Wise Guys." She also recurred as 'Helen' on the ABC television phenomenon "Lost" and 'Nancy Gilroy' on FX's "The Shield."
Currently, Sagal is producing and developing a new series for FX called "Diva. Clown. Killer." a half hour comedy, co-created with Kurt Sutter and Belle Zwerdling.
In addition to her acting, Sagal is a critically acclaimed singer and songwriter. Sagal was a 'Harlette' with Bette Midler for three years as well as a background singer for Bob Dylan, Olivia Newton-John, Etta James and Tanya Tucker. Her next album, "Covered," will be released on November 11, 2013 with "Free Fallin'" as the first single.
With the support of record label Valley Entertainment, Sagal released her album, "Room," in 2004. "Room" was the first record for Sagal since her 1994 debut, "Well." "Room" was a combination of original songs penned by Sagal including "Life Goes Round", "Daddy's Girl" and "Wish I Were a Kid" and memorable classics like "Feel a Whole Lot Better" and "(For the Love of) Money". The first single was "Daddy's Girl", a touching song about the long-lasting relationship between a daughter and her father. She debuted the song on the March 2, 2004 episode of "8 Simple Rules…". "Room" was produced by Bob Thiele (Bonnie Raitt) and mixed by Ray Kennedy (Twangtrust/Steve Earle). Ivan Neville, Don Was and Shane Fontayne make appearances throughout the disc.
Sagal gained national attention for her role as the outrageous 'Peg Bundy' in the ground-breaking, highly-rated long-running series "Married with Children," for which she earned three Golden Globe and two American Comedy Award nominations.
In her first job on television, Sagal joined Mary Tyler Moore in the television series "Mary" and has starred in the television movies "Smart House" and "Mr. Headmistress" (both for "Wonderful World of Disney"), as well as "Chance of a Lifetime," "Trail of Tears" and "She Says She's Innocent."
She has also starred in the feature films "Love Stinks," "Mail Order," "The Good Mother," and the 2000 Sundance Film Festival favorite "Dropping Out."
Sagal currently resides in Los Angeles, California with her husband, Kurt Sutter, who counts executive producer and writer of "Sons of Anarchy" and "The Shield" among his many credits, her three amazing children, Sarah, Jackson, and Esmé, and two dogs, Mike and Lola.
Amoeba Music 
6400 Sunset Blvd, Los  Angeles, CA 90028