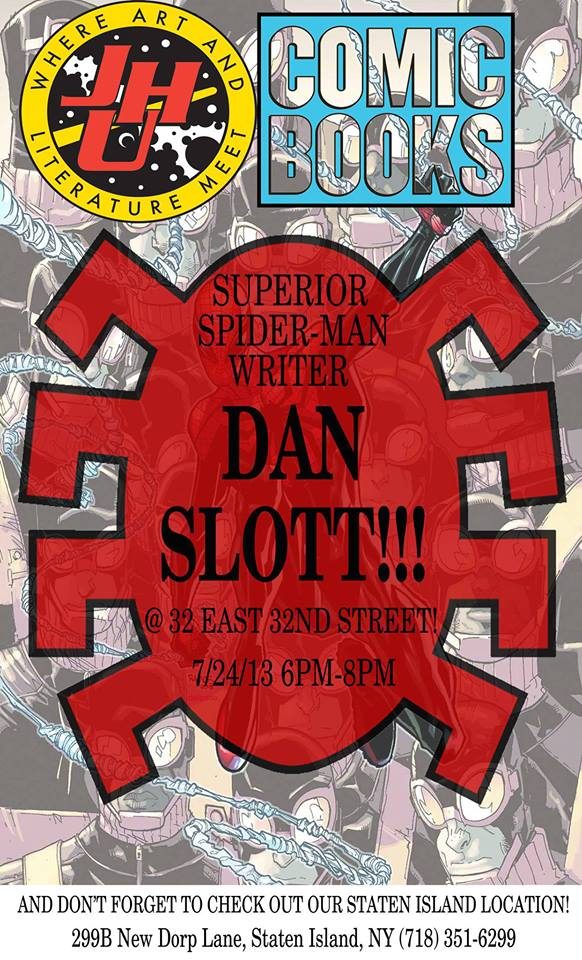 Writer Dan Slott signs at JHU Comic Books on Wednesday July 24th at 6:00pm!
Press Release:
Hello to one and all! On July 24th, we here at JHU Comic Books will be welcoming one of our favorite creators, the Spectacular Dan Slott to his first appearance at our new 32nd st. location! That's right folks, Dan will be here at 6pm on the day, signing copies of the new issue of Superior Spider-Man (where everyone's favorite web-head gets a brand spanking new costume!)
As always, we must ask that you purchase a copy of Superior Spider-Man #14 in order to participate in the signing, and if you would like to bring any books of your own to the event to be signed, we ask that you observe the limit of 5 books per your turn on line (meaning you may get Superior Spider-Man #14 plus 4 other books signed your first turn on line and, time permitting, you may go to the back of the line to get an additional 5 items signed at your next turn)
So come on down and get a copy of the latest issue of Superior Spider-Man signed by wall crawling mastermind, Dan Slott! All here at JHU Comic Books, where fans and creators meet!
JHU Comic Books MANHATTAN
32 East 32nd Street, New York, NY 10016
(212)268-7088