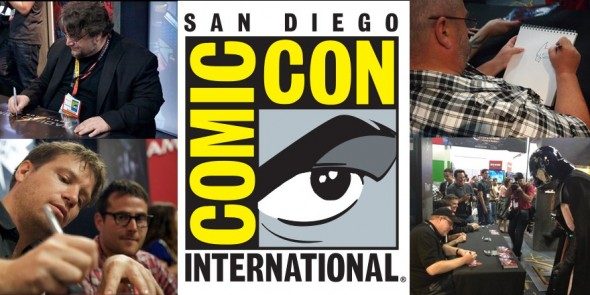 Via Legendary: 
Legendary will be hosting several opportunities for fans to meet their favorite stars from upcoming films and get posters, t-shirts and memoribilia signed. Signing cards may be available at the booth, but we encourage you to also bring any items you would like signed.
Schedule:
Shadow Walk – Mark Waid, Shane Davis & Max Brooks
July 18, 5 – 6 pm
Seventh Son – Jeff Bridges, Ben Barnes, Kit Harington, Antje Traue and Sergei Bodrov
July 20, 11:40 am – 12:20 pm
300: Rise of an Empire – Eva Green, Sullivan Stapleton, Rodrigo Santoro & Noam Murro
July 20, 12:30 pm – 1:00 pm
Godzilla – Bryan Cranston, Aaron Taylor-Johnson, Elizabeth Olsen & Gareth Edwards
July 20, 12:30 pm – 1:00 pm
*Be sure to check the Events tab for the latest schedule and follow us on Twitter for breaking news and announcements. Schedule is subject to change. Note: photos above are from 2012 and do not represent who will be signing this year.
EVENTS SCHEDULE
Jul 18

Q&A with Travis Beacham, Writer of Pacific Rim
San Diego Comic-Con, Booth #3920

12:00PM – 1:00PM

Jul 18

Shadow Walk Signing – Mark Waid, Shane Davis & Max Brooks
San Diego Comic-Con, Booth #3920

5:00PM – 6:00PM

Jul 19

Portfolio Review with Bob Schreck
San Diego Comic-Con, Booth #3920

11:30AM – 12:30PM

Jul 20

Warner Bros. Pictures and Legendary Pictures Preview Their Upcoming Lineups
San Diego Comic-Con, Hall H

10:45AM – 1:15PM

Jul 20

Seventh Son Signing – Jeff Bridges, Ben Barnes, Kit Harington, Antje Traue and Sergei Bodrov
San Diego Comic-Con, Booth #3920

11:40AM – 12:20PM

Jul 20

300: Rise of an Empire Signing – Eva Green, Sullivan Stapleton, Rodrigo Santoro and Noam Murro
San Diego Comic-Con, Booth #3920

12:30PM – 1:00PM

Jul 20

Godzilla Signing – Bryan Cranston, Aaron Taylor-Johnson, Elizabeth Olsen and Gareth Edwards
San Diego Comic-Con, Booth #3920

1:00PM – 1:45PM