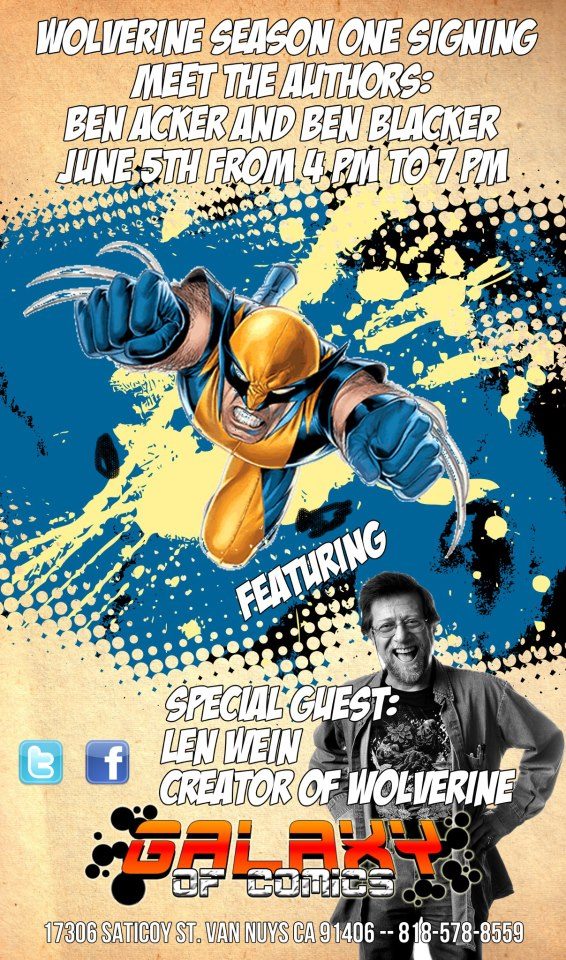 Special guest Len Wein joins writers Ben Acker and Ben Blacker for a Wolverine: Season One signing at Galaxy of Comics on Wednesday, June 5, 2013 from 4:00 until 7:00 pm!
Press Release:
Galaxy of Comics Proudly presents BEN ACKER and BEN BLACKER (writers on Supernatural and The Thrilling Adventure Hour), signing their new Hardcover Graphic Novel, Wolverine: Season One, Wednesday, June 5th, 2013, from 4 PM to 7 PM!
Wolverine first grabbed readers way back in 1974, in Marvel Comics' "The Incredible Hulk" #181 written by LEN WEIN and penciled by Herb Trimpe, where the clawed hero was dispatched by the Canadian government to put an end to a rampaging battle between the Hulk and Wendigo. Since that first appearance, he has remained a cornerstone of Marvel's mythology, appearing in countless comic books, films and other media. Now Wolverine: Season One, written by Ben Acker and Ben Blacker with art by Salva Espin, dives into the events surrounding the hero's first confrontation with the Hulk.
And while we're speaking of LEN WEIN, Mr. Wein will be joining the talented team of Acker and Blacker here at the GoC June 5th! So, make sure you stop by the Galaxy of Comics and chat with BEN, BEN and LEN and get Wolverine: Season One signed by MARVEL COMICS hottest writers in time for the movie!!!
Galaxy of Comics
17306 Saticoy Street, Van Nuys, CA 91406