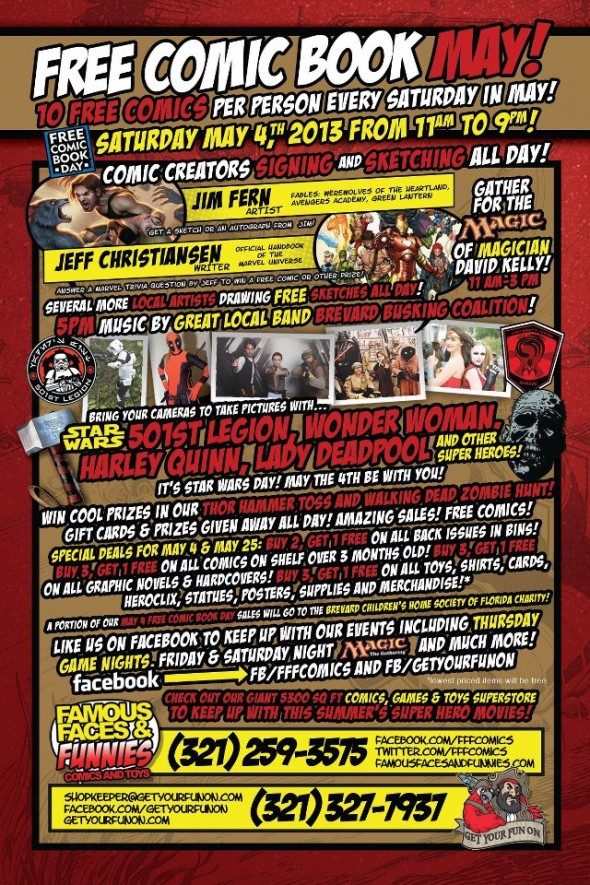 Jim Fern, Karl Moline, Jeff Christiansen, and Nelson Ortega sign at Famous Faces & Funnies on Saturday May 4, 2013 for Free Comic Book Day!!
Press Release:
Free Comic Book Day is Saturday May 4th at 11am!
Help us spread the word and make this the biggest Free Comic Book Day ever.
We will have 10 FREE COMICS PER PERSON every Saturday in May!
We will have several great local artists drawing FREE sketches of your favorite characters!
Jim Fern – Fables: Werewolves of the Heartland, Green Lantern, Avengers Academy
Nelson Ortega – Sonic The Hedgehog, Silver Sable, Spider-Man
Karl Moline – Buffy, Avengers Academy, Fray
Jeff Christiansen – Official Handbook of the Marvel Universe writer, answer Marvel trivia to win more free comics and other prizes
We have 501st Legion Star Wars characters, Wonder Woman, Harley Quinn, Lady Deadpool, Wolverine and several more characters here taking pics for the first few hours. We'll have magician David Kelly from 11 AM to 3 PM, music by Brevard Busking Coalition at 5 PM and more to make this our craziest FREE COMIC BOOK DAY EVER!
Play our Thor Hammer Toss or Walking Dead Twitter Zombie Hunt.
Join us Saturday May 4th and every Saturday in May to get some amazing FREE COMICS!
Spend $3 every Saturday in May and you get a free graphic novel! Pick from our favorite first volumes like Y: The Last Man, Walking Dead, The Boys, Irredeemable, Scott Pilgrim, Serenity, Morning Glories,Chew, Fables, Preacher, Transmet, and much more!
Spend $5 each week at GYFO and get a $10 GYFO gift card. You can't use the gift card towards the price of Magic booster boxes, but can use it on anything else on their side.
If you've got a super-hero costume you'd like to show up in on May 4 or an artist interested in drawing on one of the other Saturdays, May 11, 18 or 25, please comment here or contact us at FFFComics@aol.com. Thanks!
Famous Faces and Funnies
3000 W New Haven Avenue, West Melbourne, FL 32904