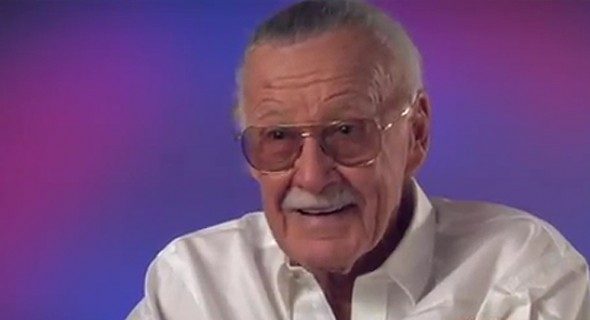 Press Release:
Big WOW! ComicFest is extremely excited and proud to welcome comic book legend STAN LEE for his first ever appearance at the Bay Area's Premier Comic Book and Pop Culture Convention!
The legendary architect of the Marvel Universe, Stan Lee will spend the entire day on Sunday May 19, 2013, meeting with fans, signing autographs, posing for pictures, and answering questions in an exclusive panel presentation. Stan "The Man" Lee, whose legendary comic book career has spanned over 60 years, is the creative mind behind many of the biggest names in the comic book universe, including co-creating Iron Man, Spider-Man, the X-Men, the Hulk, Thor and numerous others, and his body of work is far and away the most extensive in the history of comic books.
"It's a dream to have Stan attend our show" said Big WOW! co-organizer Steven Morger. "There is no one who exemplifies the creative spirit that Big WOW! brings to the fans more than Stan Lee. He truly is a legend in the comic book industry."
Stan Lee headlines an impressive guest list at this years Big WOW! ComicFest. Joining Stan are some of today's top comic industry professionals including Neal Adams (Superman, Batman), Tony Daniel (Batman), Adam Hughes (Fairest, Wonder Woman), Writer Brian Azzarello (100 Bullets, Joker), Toshio Maeda (Urotsukidoji & La Blue Girl), Eduardo Risso (100 Bullets), Lee Bermejo (Rorschach, Joker), Sanjulian (Vampirella), Brian Stelfreeze (Batman), Sergio Aragones (MAD, Groo), Herb Trimpe (Hulk), Terry & Rachel Dodson (X-Men, Wonder Woman), and Arthur Adams (Classic Avengers).
Advance Ticket Sales and Hotel Information
CreaturesCon 2
CreaturesCon, the official Creature Features Convention dedicated to the classic San Francisco Bay Area TV Show, will join forces with Big Wow Comicfest this May 2013 in San Jose. John Stanley, Ernie Fosselius, Lord Blood-Rah, Strephon Taylor, Tom Wyrsch and a gang of special guests will be on hand.
Creature Features Props & Memorabilia
Creature Features Panel dedicated to Bob Wilkins
Creature Features items for sale
Creature Features shows on giant monitor ran continuously
And for the first time ever, Creature Features Live. A complete Creature Features show done live on stage with John Stanley as host, guests, and feature length movie with breaks. Guaranteed to be the largest Creature Features event ever. All part of CreaturesCon 2 at Big WOW! ComicFest.
And no Big Wow! ComicFest is complete without our:
Art Auction, Costume/Cosplay Contest (Saturday night directly after the show), Gaming, Card & Role-Playing Games with Sanctioned Tournaments and Live Demonstrations of Magic the Gathering, World of Warcraft, Hero Clix, and more!
Tickets are available on the website. And we have tickets available at over 30 participating comic book stores around Northern California.
Admission is only:
1 Day Adult $20.00
2 Day Adult $30.00
1 Day Child (8-14) $10.00
2 Day Child  $15.00
CHILDREN UNDER 8 ARE FREE!