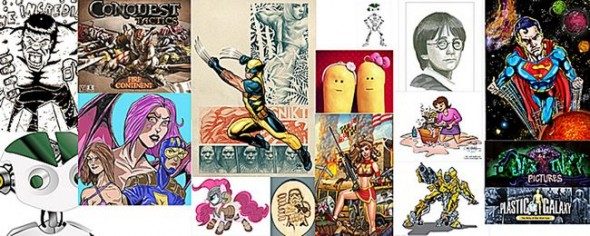 Press Release:
Big Guests, Big Vendors and A Big Film Make the Second ANS Sci-Fi & Comic Con a BIG DEAL!
Preparations are in full swing for the May 11 benefit event showcasing Archbishop Neale School in La Plata.
"Our headlining special guest is the unmistakable Frank Cho," says event organizer Tom Boone. "This is Frank's only scheduled convention appearance in the DC area for the rest of the year!" This May, Marvel Comics will be wrapping up a well-received six issue series written and drawn by Mr. Cho called 'Savage Wolverine', based on the X-Men hero. More than 20 other comic artists and writers will be attending as well as artists from other disciplines including digital media, sculpting, pyrography and photography.
In addition to artists, more than 20 vendors covering over 80 tables will be selling a wide array of comics, cards, sci-fi, pop culture and entertainment collectibles. "We're very proud that nearly all of our vendors from our 2012 show have returned and we've attracted even more this year," says Boone. Among them are Cards, Comics and Collectibles, a retail store in Reisterstown and Third Eye Comics, a retailer with stores in Prince Frederick and Annapolis. "We have vendors coming from as far away as Pennsylvania. We've cast the net wide to try to get as many unique vendors as possible for our attendees." Local retailers such as Comics MD and BookNuts Book Shop will also have a presence at the show.
Another first for the event is the screening of films. New York based filmmaker Brian Stillman will be attending the ANS Sci-Fi & Comic Con to present previously unseen clips from his upcoming film, 'Plastic Galaxy – The Story of Star Wars Toys'. According to Boone, "It's an incredible documentary that toy collectors and Star Wars fans will love." Other works include student films from the DAVE School in Orlando, FL, and rare films that have never been commercially released.
Panels and presentations, a staple of comic conventions, will also be a part of this year's charity event. "How to Make Your Own Comic" will be a panel discussion with artists and creators lead by Chris Rizzo, Creative Director of New York based multimedia group Dark Ink Pictures. The panel will discuss topics such as breaking into comics and writing techniques. "The DIY ethic is strong in comics today. The internet and indie publishing are breaking down barriers and providing young creators with opportunities that were unthinkable as little as ten years ago," says Boone.
Popular at conventions around the world is the 501st Legion, a Star Wars-inspired costuming group whose local unit, the Old Line Garrison, will be returning to the ANS Sci-Fi & Comic Con in greater numbers this year. The stormtroopers will be entertaining fans of all ages with a charity putt-putt game and plenty of photo opportunities throughout the event. Also returning are the Viking Re-enactors from Southern Maryland's own Longship Company, with authentic costumes and equipment.
Another highlight of the ANS Sci-Fi & Comic Con is the Silent Auction. "Every penny from admissions, the vendor's fees and the silent auction goes directly to the operating budget of Archbishop Neale School." To that end, an impressive array of unique and one-of a-kind collectibles have been gathered for the auction from attending artists including Mike O'Shields and Laura Inglis, to major industry names like John Byrne, Doug Chiang and James Arnold Taylor, and authors Troy Denning and Lemony Snicket.
"All this is just the tip of the iceberg," says Boone. "We're screening more films and we'll have more artists and more presentations. We're using more space inside the school than ever. We have more food vendors this year, more prizes, more of everything fans go to conventions for. We encourage all of our attendees to make plans to stay for a while!"
The Second Annual ANS Sci-Fi & Comic Con is happening May 11, 2013, from 10am to 3pm at Archbishop Neale School in La Plata, Maryland. Admission is $5 for adults, kids under ten are free. For more information, visit www.anscomiccon.com
About Archbishop Neale School –
Archbishop Neale School is a Catholic elementary school in La Plata, Maryland that has been in continuous operation since 1927, with a two-track system for grades Pre-K through 8 and a curriculum centered on the Archdiocese of Washington graded course of study. We are fully accredited, and our teachers are certified by the State of Maryland in their specific areas. We serve Catholic students from over seven parishes and many non-Catholics as well. For over 80 years, parents have entrusted their children to ANS because they are assured of an excellent, Archdiocesan standards-based academic curriculum that encompasses Catholic faith and values delivered in a safe, caring environment. For more information, visit www.ArchbishopNealeSchool.org