Press Release:
J. Scott Campbell to Attend 2013 Big WOW! ComicFest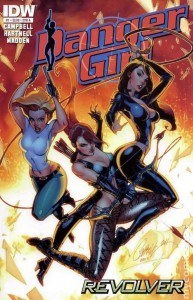 J. Scott Campbell, one of the most popular artists in comics, has graciously accepted an invitation to be a Guest at the 2013 Big WOW! ComicFest in San Jose, CA this May 18-19! As one of the most requested guests for any convention, we are ecstatic to have the opportunity to bring him to meet his Bay Area fans. Campbell first exploded on the scene in the 90s with his book Gen 13. His dynamic storytelling and reputation for illustrating some of the most attractive women in the industry continued with his follow-up project, Danger Girl. His covers currently grace titles including Avengers, X-Men, The Black Bat and Miss Fury for Dynamite Comics, and many more!
Joining J. Scott Campbell at this years Big WOW! ComicFest are some of today's top comic industry professionals including Neal Adams (Superman, Batman), Tony Daniel (Batman), Adam Hughes (Fables, Wonder Woman), Brian Azzarello (100 Bullets, Joker), Olivia De Berardinis (Playboy), Toshio Maeda (Urotsukidoji & La Blue Girl), Eduardo Risso (100 Bullets), Lee Bermejo (Rorschach, Joker), Sanjulian (Vampirella), Brian Stelfreeze (Batman), Sergio Aragones (MAD, Groo), Herb Trimpe (Hulk), Terry & Rachel Dodson (X-Men, Wonder Woman), & Arthur Adams (Classic Avengers).
Previously announced guests also include Travis Charest (Weapons of the Metabarons), Kevin Nowlan (Superman Vs. Aliens), James O'Barr (Crow), Dan Brereton (Nocturnals), Keu Cha (Rising Stars), Joe Linsner (Dawn), Michael Golden (The 'Nam), Bill Morrison (The Simpsons, Futurama), Humberto Ramos (Wolverine), Frank Cho (Savage Wolverine, Liberty Meadows), Liam Sharp (Gears of War), Bill Sienkiewicz (Elektra Assassin), Jason Palmer (Serenity), Aaron Lopresti (Spider-Man), Ryan Sook (Zatanna), and so many more confirmed guests added to our website!
This year we've included many special Cosplay events, including our Geek Fashion Show during the afternoon on Saturday and some special after hours movie mayhem Saturday evening. Our ever popular Costume Contest will also be held on Saturday. Artist Frank Cho and costume artist Riddle will also host a special panel entitled From Comics Page to Cosplay Costume: How to Make Costumes of Your Favorite Comic Characters, and Frank will also host a figure drawing panel with costume artist Ivy Doomkitty.
CreaturesCon, the official Creature Features Convention dedicated to the classic San Francisco Bay Area TV Show, will join forces with Big Wow Comicfest this May in San Jose. John Stanley, Ernie Fosselius, Lord Blood-Rah, Strephon Taylor, Tom Wyrsch and a gang of special guests will be on hand hosting panels and displaying props and other memorabilia.
Advance Attendee Ticket sales are now available both online and at many local comic shops in the Bay area. Tickets will also be sold from the box office at the convention hall both days of the show. Advance ticket sales are discounted!
Big Wow! ComicFest – The Original Artist Friendly Convention – returns to San Jose May 18th & 19th, 2013, bringing two great days of Comic Book, Anime/Manga, Art, Sci-Fi, Fantasy, Gaming and Cosplay FUN! Many of the country's best vendors of all things cool and collectible will tempt your wallets with the perfect gifts for Geek, Fans and True Collectors, everywhere! Big Wow! ComicFest is the Only Major Comics Event in the San Francisco Bay Area this Year.
Be sure to follow us on both Facebook and Twitter to stay up-to-date on all our upcoming announcements!