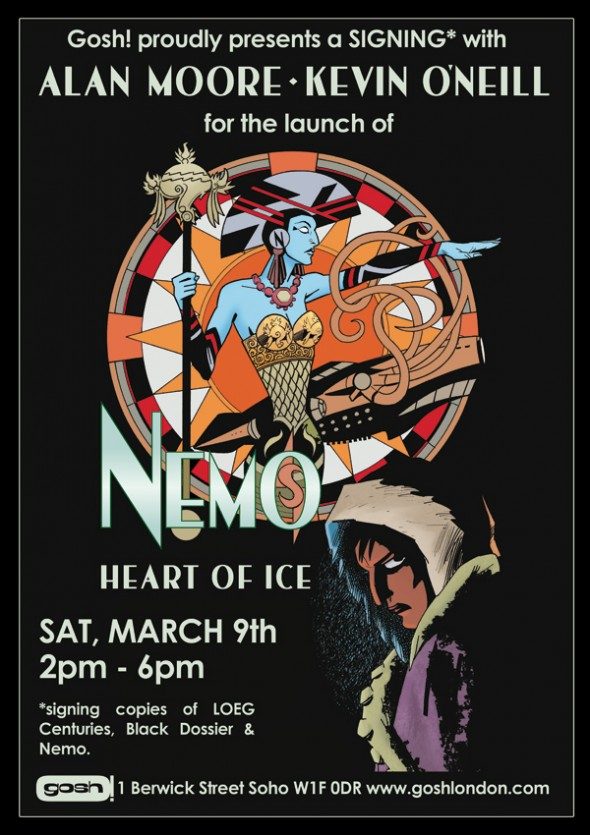 Writer Alan Moore and artist Kevin O'Neill sign the latest League of Extraordinary Gentleman book, Nemo: Heart of Ice, on Saturday, 9th March 2013 from 2:00 – 6:00 pm!
Press Release:
In the grim cold of March surfaces a thrilling new League of Extraordinary Gentlemen book — Nemo: Heart of Ice, a full-colour 56-page adventure in the classic pulp tradition by the inestimable Alan Moore and Kevin O'Neill. In that same grim cold we are inviting you to stand in a backstreet of Soho clutching your League Of Extraordinary Gentlemen comics to be signed by the guys who made them. Ordinarily we'd save it for the summer so you could bring your deckchairs and beers instead of duvets and every cardigan you own but this simply can't wait: it's the launch day of Nemo: Heart of Ice and nobody will care about the weather because there's a new League comic on the shelves.
It's 1925, fifteen long years since Janni Dakkar first tried to escape the legacy of her dying science-pirate father, only to accept her destiny as the new Nemo, captain of the legendary Nautilus. Now, tired of her unending spree of plunder and destruction, Janni launches a grand expedition to surpass her father's greatest failure: the exploration of Antarctica. Hot on her frozen trail are a trio of genius inventors, hired by an influential publishing tycoon to retrieve the plundered valuables of an African queen. It's a deadly race to the bottom of the world — an uncharted land of wonder and horror where time is broken and the mountains bring madness. Jules Verne meets H.P. Lovecraft in the unforgettable final showdown, lost in the living, beating and appallingly inhuman HEART OF ICE.
Nemo: Heart of Ice. Hardcover. £9.99.
It's all happening on Saturday the 9th of March from 2pm until 6pm. Given the size of previous Moore/O'Neill signings it's a good idea to get there early so you don't miss out.
Just a quick note on the rules for the day: because of time constraints Moore and Kevin will only signing copies of League of Extraordinary Gentlemen: Century 1910, 1969, and 2009, the Black Dossier and the new Nemo book — with a limit of 3 items per person (any combination of those mentioned is fine, but only three things. No suitcases full of Swamp Thing back issues, please). We'll have plenty of copies on the day but if you'd like to reserve anything drop us a line at info@goshlondon.com and we can sort you out.
Sadly, Alan & Kevin won't have time to sign any extra stock, so if you can't make it we recommend you find someone London-based (and very patient) to sit in the queue for you.
Gosh Comics 
1 Berwick Street, SoHo, London W1F0DR
United Kingdom