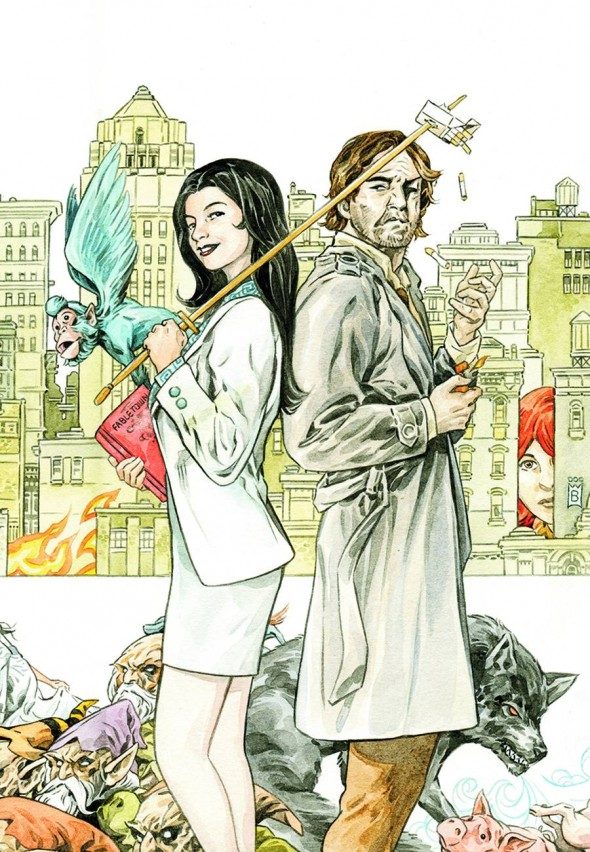 For immediate release
Wait a moment, on second thought, "for immediate release" makes this sound awfully urgent, and it's not. Yes, it does happen to be time-sensitive material and we'd like it released soon, or at least soonish, but it needn't be immediate. Save "immediate" for medical emergencies, positioning yourself under a pop-up fly, and disarming bombs. At best, this falls more under the heading of, "as quickly as you can reasonably get to it." Please, finish your coffee and that last bite of sandwich, visit the facilities (if you need to), relax a bit and settle yourself. Then, please, if you'd be so kind, release this puppy.
Thanks.
Fabletown and Beyond, our convention celebrating the Mythic Fiction movement in comics, is just around the corner.
A personal note from Bill Willingham, inviting you to think about attending:
Hi,
I'm Bill Willingham, the writer of the long-running comic series Fables. In just over a month I'll also be hosting a small comic convention in Rochester, Minnesota called Fabletown and Beyond. It's a convention about Fables and books like it.
If you go to our website you can find out all sorts of good things like who else is coming, what sorts of programming we're planning to have (although it's far from a comprehensive list yet). Please visit fablescon.com for the full tour.
Since it was designed from the beginning to be a small convention, with more time and opportunity to interact with the guests of your choice, we're limited on how many folks can attend, and we're beginning to close in on our hotel room and attendance limits.
So then, now seems the time to act. If you're interested in attending, a month and a half away is nearly no time at all. Perhaps it's time to pounce, to strike boldly, to do some other thing that is metaphorically equivalent to deciding to attend.
Also, you may not know this but it's going to be the perfect show to which you'll want bring the special love of your life. We've done extensive made-up scientific research on this. Think of Fabletown and Beyond as a romantic couples retreat, but with comics too.
We're planning on a fine time to be had for all, including (but not limited to) game shows, a phone-photo scavenger hunt, with amazing prizes, and even opportunities for one-on-once conversations with your favorite artist and/or writer.
Pretty cool, huh?
Speaking for vast multitudes, I do hope we'll see you there.
Also, for those in the greater Minneapolis and Saint Paul area, and its surroundings, you should know that The Crossings art studio in Zumbrota, as a lead in to Fabletown and Beyond, is hosting an all comic art gallery show, throughout the entire month of February.
It's going on right now and will continue throughout the rest of the month. It features the comic art of myself, Gene Ha, Adam Hughes, Mark Buckingham, and Chrissie Zullo, all of whom will also be attending the convention in March.
Many original pieces have already sold. It's on track to being the best gallery show the venue has ever had. But we've stocked the art in deep. Many more pages and comic art covers are still available and will be throughout the month.
For more information you can visit The Crossings website at: crossingsatcarnegie.com or by calling them at 507 732 7616.
Of course any unsold covers and pages will be available again at Fabletown and Beyond.