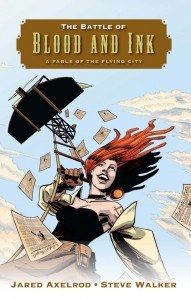 Jared Axelrod signs at Chapel Hill Comics on Saturday, February 2, 2013 from 5:00 till 7:00 pm!
Press Release:
Chapel Hill Comics is proud to announce our next event: We are hosting Jared Axelrod, author of the Tor graphic novel The Battle of Blood & Ink: A Fable of the Flying City! 
Jared Axelrod is an author, an illustrator, a graphic designer, a sculptor, a costume designer, a podcaster and quite a few other things that he's lost track of but will no doubt remember when the situation calls for it.
He is a founding member of the daily flash-fiction website "365 Tomorrows," and the writer and producer of the science-fiction podcasts, "The Voice Of Free Planet X," "Fables of the Flying City" and  "Aliens You Will Meet."
"The Battle of Blood & Ink" is his first graphic novel.
Please come out this Saturday to meet Jared and talk to him about his graphic novel!
Here's what the graphic novel is all about:
If you're visiting the flying city of Amperstam without the latest printing of The Lurker's Guide, you might as well be lost. This one-sheet is written, edited, and printed by Ashe, a girl raised on the streets of the flying city, and is dedicated to revealing its hidden treasures and deepest secrets-including many that the overcontrolling government doesn't want anyone to know. The stakes are raised when Ashe accidentally uncovers the horror of exactly how Amperstam travels among the skies and garners the attention of those who would rather that secret be kept in the hands of the city's powerful leaders.
Soon Ashe is on the run from thugs and assassins, faced with the choice of imperiling her life just to keep publishing, or giving in to the suggestion of a rich patron that she trade in her voice and identity for a quiet, comfortable life. It's a war of confusion for Ashe, but one thing is very clear: just because you live in a flying city, you can't always keep your head in the clouds.
Chapel Hill Comics
316 W Franklin Street, Chapel Hill, NC 27516
(919) 967-4439