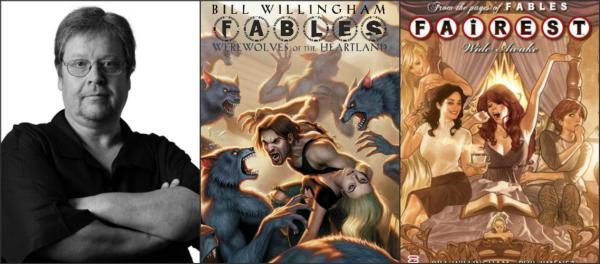 Bill Willingham appears at the Crossings Gallery to teach two writing workshops.
Writing to be Drawn
Saturday, February 9, 10am-1pm.
Cost: $50. Age 12 to adult.
Level: Beginner to Intermediate
Comic Books are big. They rule Hollywood now, and before they're drawn, they need to be written.
It can be tough to write for the specific medium of comics, unless you can think like an artist. Bill Willingham, a thirty year veteran of comic book writing, and winner of comics' most prestigious award for comic writing, will take you through the ins and outs and how to write when it's going to be drawn.
Writing Prose Stories
Saturday, February 23, 10am-1pm.
Cost: $50
Level: Beginner to Intermediate
This is a one-day class on some of the special considerations one should have in writing prose to sell, including how to keep it short and lively. We'll also discuss some of the special considerations for writing to specific markets, like Science Fiction, Fantasy, Horror and other genres.
Bill Willingham is a novelist, short story writer and comic book writer, winner of many industry awards and four time Hugo nominee. His work has been translated into far too many languages, none of which he can read.
Crossings Gallery
320 East Avenue, Zumbrota, MN 55992
507-732-7616