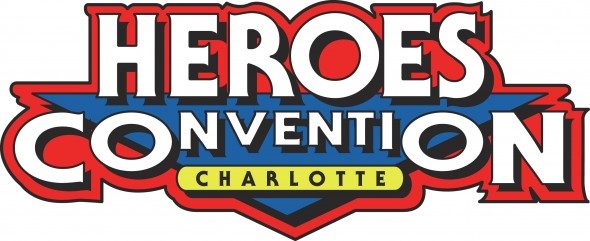 HeroesCon 2013 tickets and artist alley tables are now available for the 2013 show which takes place on June 7-9th!
$30 Discount Passes available until January 1, 2013 / 3 Day Passes will be $40 after the 1st of the year. You can save $25 by ordering now! Click here for tickets!
Artist Alley tables are also available:
Heroes Convention is not only one of the most recognizable names on the comics convention circuit, but has a well-deserved reputation as a convention that puts comics first, meaning aisles packed with fans looking for new comics and comic-related merchandise to check out. Our 2013 HeroesCon will be one of our biggest yet, and booth space is fully expected to sell out well in advance of the show. No space is reserved without payment in full: act now to reserve your space!
TABLES:
ARTISTS ALLEY TABLE: $300 Includes 6′ table, 2 chairs, and 2 passes. Great for a solo venture or a two-man team. Or a two-woman team. Man/Woman teams are fine, too.
FOR ADDITIONAL SEATS above the allotment you receive with your purchased space(s), the cost is $50 per additional seat, up to a maximum of 1 additional person per Artists Alley Table, no exceptions–we want everyone to have the most pleasant and comfortable show they can, and overcrowded tables are the opposite of pleasant and comfortable show they can, and overcrowded tables are the opposite of pleasant and comfortable.
NOTE that paid spaces in Artists Alley are awarded on a first-come, first-served basis. Unless you have other specific preferences, we will place tables beginning in the center of the area, moving outward. There is a space on the Artists Alley registration page where you can put seating preferences if you have them. We try as hard as we can to honor these, but obviously we cannot honor all of them, so thanks for your understanding!
ABOUT HEROESCON:
HEROES CONVENTION was founded in 1982 by Shelton Drum, owner of Charlotte's Heroes Aren't Hard To Find comics shop. Since then the convention has become famous for its comics-first and family-friendly atmosphere, where fans can mingle directly with professionals and exhibitors. Boasting an incredible guest list built mainly on reputation and goodwill, HeroesCon is known nationwide as a "must" on the summer schedule, drawing fans, exhibitors, and creators from all over the world to the Charlotte Convention Center.
2013 Guests include:
JASON AARON
PETER BAGGE
ELIZABETH BREITWEISER
MITCH BREITWEISER
FRANCESCO FRANCAVILLA
ROB GUILLORY
CULLY HAMNER
JAMES HARREN
TONY HARRIS
ADAM HUGHES
DAVE JOHNSON
JASON LATOUR
JOHN LAYMAN
BRANDON PETERSON
ERIC POWELL
JOE QUINONES
PAOLO RIVERA
GREG RUCKA
CHRIS SAMNEE
BRIAN STELFREEZE
BEN TEMPLESMITH
MARIS WICKS
& MANY MORE!
For the most up-to-date information, check our blog, or sign up for the weekly Heroes Hotline newsletter. You can also follow us on Twitter and Facebook!
BUYING AN ADVANCE PASS MEANS YOU'LL GET ANY ADVANCE INCENTIVES WE OFFER FREE!  NUMBERED INCENTIVES, INCLUDING PRINTS, ETC., WILL BE AWARDED IN THE ORDER THE PASSES ARE PURCHASED, SO THE EARLIER YOU BUY, THE BETTER!
ENTRY WILL BE $20:FRI $20:SAT $15: SUN / AT THE SHOW ITSELF, SO YOU SAVE AS MUCH AS $25 BY PURCHASING ADVANCE PASSES TODAY!