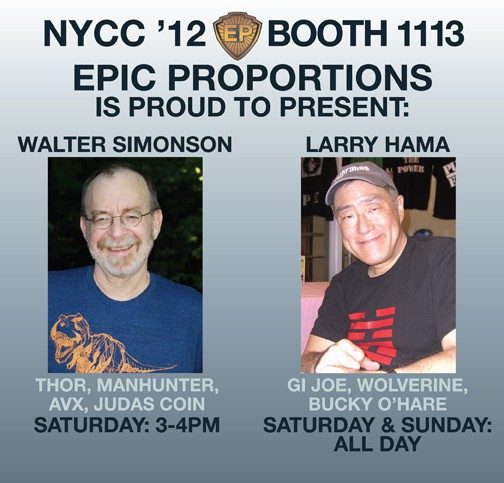 Press Release:
Epic Proportions announces that comic book legends Walter Simonson (Thor, Manhunter, Batman, Avengers, Judas Coin) and Larry Hama (GI Joe, Wolverine, Barack the Barbarian, Bucky O'Hare) will both be signing at our booth 1113 during New York Comic Con!
What's the connection between these two legends and us you ask? Well they both have done exclusive original art tshirt designs for our Signature Tee Line!
Walter Simonson will appear at the booth Saturday October 13, 2012 from 3:00 pm – 4:00 pm.
Larry Hama will make his only appearance at the con at our booth! Meaning, there is no other place you'll find him at the con! And he'll be with us all day on both Saturday and Sunday!
So bring all your Thor and GI Joe comics to get signed by these two legends! And pick up one of their Signature tees!
These tees will not be reprinted. So this could be the last chance to get any of them.