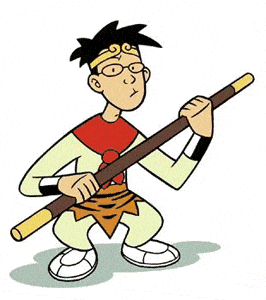 Cartoonist Gene Luen Yang appears at the Sunset Branch of San Francisco Public Library on Monday October 1, 2012 at 7:00pm. Yang says on his website, "Specifically, I will address approaching comics as a writer. Drop by and say hi, especially if you're interested in writing for comics!"
Press Release:
How do graphic novels get made? Graphic novelist Gene Luen Yang, author of the Printz Award-winning graphic novel American Born Chinese and recently Level Up, will demystify the inner workings behind this increasingly popular narrative art form.
Renowned for his sensitive depictions of adolescence and mixing of magical realist elements with the everyday to demonstrate the difficulties of growing up as an Asian American, Yang will discuss his own work and the emerging graphic novel medium.
Gene Luen Yang's works include The Eternal Smile (winner of the Eisner Award), Prime Baby (serialized in The New York Times), Level Up (now in stores), and Avatar: The Last Airbender: The Promise (from Dark Horse Comics). When he's not making comics, he teaches at Bishop O'Dowd High School. Visit his site at geneyang.com.
A book sale and signing follows the program.
Sunset Branch of San Francisco Public Library
1305 18th Ave, San Francisco, CA