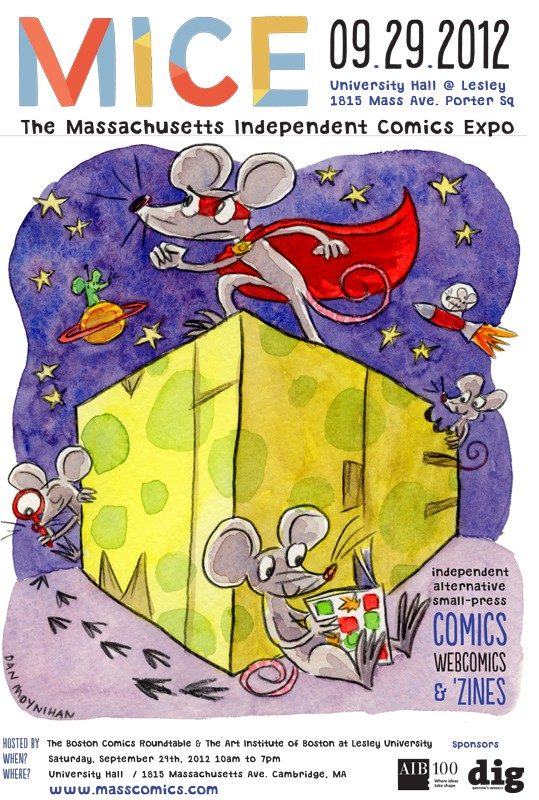 The Massachusetts Independent Comics Expo has released their Panel and Workshop Schedule for 2012
WORKSHOPS
12:00PM – 12:50PM
Character Drawing
 with 
Bob Flynn
: Bob will demonstrate the importance of bringing life and movement into your drawings and characters. Drawing fast, posing characters, using a line of action, loose construction—merging energy with draftsmanship.
1:00PM – 1:50PM
Fold-Out Comics
 with 
Jon Chad
: If you thought that a book is just made up of a cover, back cover, and all the business in-between, think again! There is a wide variety of folding and book construction techniques that can help create a truly unique reading experience. Jon Chad from the Center for Cartoon Studies will walk through the basics of comic-making and how to make your own unfolding minicomic!
2:30PM – 3:20PM
Digital Tools for the Comic Book Artist
 with 
David Marshall
: Do you draw comics but are afraid of digital art programs? Comics veteran David Marshall shares his techniques. Digital tips include cleaning up scans, prepping for print or web, color, production and lettering. Learn comics-specific tricks for Photoshop and Illustrator.
3:30PM – 4:20PM
Drawing with NO PAIN! Injury Prevention for Cartoonists
 with 
Kriota Willberg
: Many cartoonists and artists suffer from pain and injury caused by hours and hours of drawing. Are you one of them? Are you afraid that you will become one of them? This workshop describes common injuries and their causes, presents guidelines that can help prevent drawing injuries, and teaches simple exercises that can help reduce the risk of getting injured.
PANELS