Press Release:
Sixth Annual CAM Sketch-a-thon at San Diego Comic-Con International

Cartoon Art Museum Event:  Thursday, July 12 through Sunday, July 15, 2012

$10 Suggested donation per sketch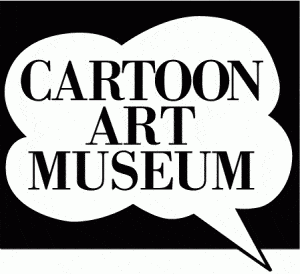 San Francisco, CA:  The Cartoon Art Museum is pleased to announce its programming for this year's San Diego Comic-Con International, to be held at the San Diego Convention Center from July 12-15, 2012.  This year marks the sixth annual CAM Sketch-a-thon, which features a host of artists donating their time and talents to support the museum in its fundraising efforts.  This year's roster includes professional animators, graphic novelists, newspaper strip cartoonists, political cartoonists, comic book illustrators, webcartoonists, underground cartoonists and self-publishers, providing the Cartoon Art Museum's booth with one of the most diverse artistic populations at Comic-Con.  The National Cartoonist Society's 2012 Reuben Award Winner Tom Richmond and Walking Dead artist Charlie Adlard are among the artists supporting the Cartoon Art Museum at this year's event.
Artists will draw for visitors during one-hour sessions at the Cartoon Art Museum's booth, #1930 on the convention floor.  In exchange for a donation of $10 or more to the Cartoon Art Museum, supporters will receive a customized convention sketch from a professional cartoonist.  Featured artists include  Charlie Adlard, Michael Aushenker, Elijah Brubaker, Carolyn Watson Dubisch, Mike Dubisch, Phil Foglio, Shaenon K. Garrity, Zack Giallongo, Sina Grace, Mike Gray, Klaus Janson, Keith Knight, Jon Macy, Larry Marder, Kraig Rasmussen, Denny Riccelli, Tom Richmond, Dave Roman, Scott Shaw!, Seamus Smith, Raina Telgemeier, Jen Vaughn, Kimo Yancey and Ron Yavnieli, with many more to be announced as the convention approaches.  Please stay tuned to our website for an updated list and schedule as additional artists confirm.
Artists who are interested in participating in the CAM Sketch-a-thon should contact Andrew Farago at gallery@cartoonart.org for more information.