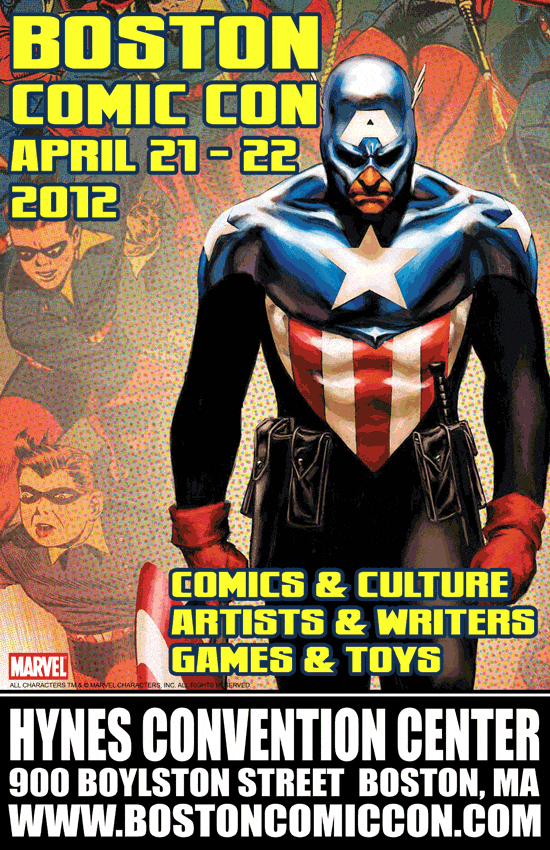 Press Release:
The 2012 BOSTON COMIC CON is THIS WEEKEND!
Kevin Eastman, Simon Bisley, Joe Sinnott, Bernie Wrightson, Ivan Reis, Steve Epting, Jill Thompson, Paolo Rivera, Renae De Liz, Ed McGuinness, Phil Noto, Becky Cloonan, David Petersen, Alex Maleev, Jeremy Bastian, Katie Cook, Tom Raney, Chrissie Zullo, Joe Benitez, Mark Brooks, Jamal Igle, Jim Cheung, Tim Sale, Skottie Young, Stephanie Buscema, Ben Templesmith, Cliff Chiang, Bill Sienkiewicz, Geof Darrow, Joe Quinones, and many more!
Also, for the first time in a long time and most likely the last time, appearing in one room together are the LEGENDS OF MAD MAGAZINE – Al Feldstein, Al Jaffee, and Paul Coker.
Marvel Comics will be in the house conducting artist portfolio revues searching for that next young gun artist!
We've got GAMING, ARTIST PANELS, COSTUME CONTEST, FILM FESTIVAL, LIVE ENTERTAINMENT, and our first ever ART AUCTION!
Finally, who could forget the official, exclusive, Marvel Comics approved Avengers Boston Comic Con T-Shirt!!!
Tickets are currently available online through the convention website or at the door. Prices are $20 for a single day pass and $35 for a weekend pass. Kids 10 and under get in free with paid adult admission!
About Boston Comic Con:
The Boston Comic Con is a 100% independently run comic book show committed to bringing the biggest and best comic creators to New England. Run by fans for fans, Boston Comic Con is not affiliated with any other convention tour or corporate interests. Hosting over 40,000 square feet of vendors selling comic books, toys, posters, trading cards, and other pop culture memorabilia, this is a destination event for geeks of any stripe. This year's convention will be held Saturday April 21st and Sunday April 22nd opening at 10:00 am each day at the Hynes Convention Center, 900 Boylston Street, Boston, MA. For more information please go to our website at www.bostoncomiccon.com and follow us on Twitter (@BostonComicCon) and Facebook!