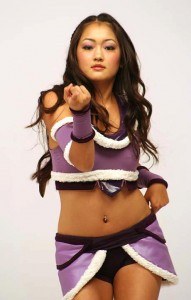 GraniteCon announces a new round of guests for their show on Sunday June 10, 2012!
NEW MEDIA GUEST ADDED! Amy Okuda! From the hit online web series The Guild, Amy, who plays Tink on the series, is doing a RARE EAST COAST APPEARANCE at Granitecon! On top of appearing in the "The Guild" (which will have a comic out for Free Comic Book Day, as well as other issues released by Dark Horse), Amy has also been on the series "Californication" and "Bite Me"! She will be signing autographs and taking pictures with fans throughout the day for $10! We're excited to have Amy at the show!
NEW GUEST ADDED! Eric Powell! Another Granitecon first, Eric, who is best known as the creator of The Goon, has also worked on titles ranging from Dark Horse to DC, including Superman: Escape from Bizarro World and most recently IDW's Godzilla: Kingdom of Monsters! We are extremely pleased to be having Eric for the show!
NEW GUEST ADDED! Charles Paul Wilson III! Returning to Granitecon, Charles has continued work on the series Stuff of Legend, alongside one of our other guests, Mike Raicht! Be sure to also pick up your copy of Stuff of Legend at Free Comic Book Day on May 5th to have him sign it at the show!
NEW GUEST ADDED! Charles Soule, writer of Image Comics "27", Slave Labor Graphic's "Strongman" and the upcoming "Strange Attractors" from Archaia!
Previously announced guests include Braden Lamb, Jason Ciamarella, Keith Champagne, Mark McKenna, Mike Raicht, Ming Doyle, and Shelli Paroline!