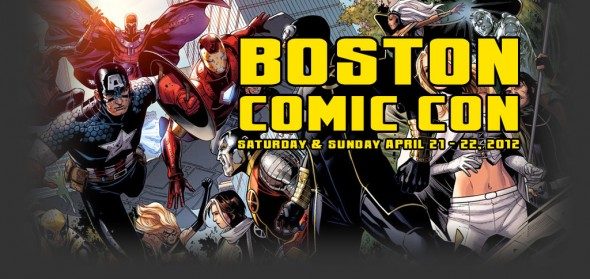 Press Release:
The Boston Comic Con announces its panel schedule for the 2012 convention! Fans will have the opportunity to see some of the brightest stars in comic book history between the rare reunion of MAD artists to the youngest new talents from the pages of Womanthology. This year's line up of talent is certainly one that is not to be missed! In addition Boston Comic Con hosts several Geek Week Events including stand up comedians, a film festival, a costume contest, and much, much more! See below for the schedule and follow us on Facebook and Twitter for the latest updates!
Tickets are currently available online through the convention website. Prices are $20 for a single day pass and $35 for a weekend pass. Kids get in free with paid adult admission!
Saturday April 21, 2012
Panel Room 102
Drawing for Kids: 11am-12pm
Katie Cook (Gronk) leads a "Drawing For Kids" workshop. Kids and their parents are invited to learn to fine art of cartooning!
All Ages Comics Panel: 12pm-1pm
Skottie Young (Marvel's Oz books), David Petersen (Mouse Guard), and Craig Rousseau (The Perhapanauts) talk about how to appeal to both the incoming crowd of young readers and longtime, stalwart fans of comic books.
Womanthology: 1pm-2pm
Founder Renae de Liz and contributors Cat Staggs, Ming Doyle, Ellen Crenshaw, Stacie Ponder, Megan Brennan, and Ceili Conway discuss their work on one of Kickstarter's most successful projects and the state of female creators in the industry.
Spotlight on Jill Thompson: 2pm-3pm
The creator of Scary Godmother and Beasts of Burden speaks about her art and career. Don't miss this opportunity to speak with one of the best in the biz!
Legends: 3pm-4pm
Legendary talents Joe Sinnott (inker Fantastic Four), Bernie Wrightson (Frankenstein), Herb Trimpe (co-creator of Wolverine), Bob Layton (Iron Man), and Bill Sienkiewicz (Elektra: Assassin) talk about their long careers and how they've changed the industry.
Michael Golden, Storytelling: 4pm-5pm
Artist Michael Golden discusses his method of telling a story visually as one of the most influential artists in the business with credits on titles like Dr. Strange, Star Wars, X-Men and more.
Creator Owned Comics: 5pm-6pm
Joe Benitez (Lady Mechanika), Becky Cloonan (Wolves), Ben Templesmith (Wormwood: Gentlemen Corpse), and Geof Darrow (Shaolin Cowboy) speak about indie comics and their growing influence in the comic market.
Geek Week Events
Panel Room 108
11am-12pm: Convention Survival
12pm-1:30pm: Nerds of Prey
1:30pm-2:00pm: P. Sawyer & Hurley's "The Complete Works of Batman Abridged"
2pm-2:30pm: Magic the Gathering: The Show
2:30pm-3pm: Quest
3pm-4pm: Star Wars "Who Wants to be a Millionaire"
4pm-5pm: Comics on Comics
5pm-6pm: Superhero Wedding
6pm-6:30pm: Anime Trivia
Sunday April 22, 2012
Panel Room 102
Legends of Mad Magazine: 11am-12pm
The "Usual Gang of Idiots" reunite to reminisce about the creation of MAD, the most influential humor magazine of the 20th century. Join Al Feldstein, Paul Coker Jr, and Al Jaffee for a rare event with the artists of Mad Magazine.
Eastman & Bisley: 12pm-1pm
Kevin Eastman (Teenage Mutant Ninja Turtles) and Simon Bisley (Hellblazer) speak about their comic projects both independently and collaboratively in the pages of Heavy Metal.
DC Comics Panel: 1pm-2pm
The New 52 revitalized the DC Universe for a new generation of readers. Meet the creators who have revolutionized the comic industry includng Francis Manapul (The Flash), Cliff Chiang (Wonder Woman), Jamal Igle (The Ray), Ivan Reis & Joe Prado (Aquaman).
Marvel Comics Panel: 2pm-3pm
Face front, True Believers! Artists Tim Sale (Captain America: White), Steve Epting (Captain America), Alex Maleev (Daredevil), and Mark Brooks (X-Men) speak about their projects at the House of Ideas. Make Mine, Marvel!
Costume Contest: 3pm-4pm
Geek Week Events
Panel Room 108
11am-12pm: The Pop Culture Professor: Dr. Rebecca Housel
12pm-12:30pm: Run Button Podcast
12:30pm-1:00pm: The Arsenal
1pm-1:30pm: Magic the Gathering: The Show
1:30pm-2pm: Achievement Unlocked
2pm-3pm: Bump
3pm-4pm: Geek Week Comedy Collider
4pm-4:30pm: Quest
About Boston Comic Con:
The Boston Comic Con is a 100% independently run comic book show committed to bringing the biggest and best comic creators to New England. Run by fans for fans, Boston Comic Con is not affiliated with any other convention tour or corporate interests. Hosting over 40,000 square feet of vendors selling comic books, toys, posters, trading cards, and other pop culture memorabilia, this is a destination event for geeks of any stripe. This year's convention will be held Saturday April 21st and Sunday April 22nd opening at 10:00 am each day at the Hynes Convention Center, 900 Boylston Street, Boston, MA. For more information please go to our website atwww.bostoncomiccon.com and follow us on Twitter (@BostonComicCon) and Facebook!