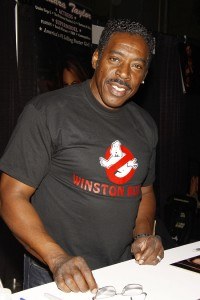 Ernie Hudson and many more sign at Packrat Comics on Saturday May 5, 2012!
Press Release:
We are pleased to include in our 2012 FCBD Celebration the great Mr. Ernie Hudson. Ernie is best known as one of the stars of our childhood favorite movie series Ghostbusters and teen angst movie The Crow! He'll be at Packrat from 11am-5pm signing autographs and taking pictures. We will be hosting an exclusive meet and greet with a limited number of fans being able to spend some quality one on on time with Ernie!
Our artist alley will be overflowing, oozing with talent from:
Dawn Best – Dawn Best was discovered by comic book artist/writer Ken Penders when he requested she submit artwork for an original script.[1] Her premier issue of Sonic was issue #101 (2001), and her last to date was issue #145 (2004). After leaving Archie, Best remained active in the comic book community by appearing as both guest and attendee of conventions and holding annual charity auctions of original artwork. She has since been credited with contributing to several other graphic novels as both artist and writer, including original web serials Sylvanna and Heißdampfreaktor. In 2010, she began production on her independently published graphic novel series, VARULV, which became the premier comic book released by her own Gloryhound Network in February 2011.
Dirk Manning – Dirk Manning is the writer/creator of NIGHTMARE WORLD and TALES OF MR. RHEE for Image/Shadowline Comics, the author of the "WRITE OR WRONG" column at Newsarama, and the co-creator of FARSEEKER at ACT-I-VATE with Len O'Grady.He loves life but hates ninjas. Cthulhu is his homeboy.
Matthew Swift – Matthew Swift is an illustrator, with a background in graphic design and painting. He works with the top companies in the entertainment and comic book industries. Matthew's work has been seen by millions worldwide on Forbes TV, G4TV, TechTV, and other networks. His work can also be found in games available for the Nintendo Wii, Nintendo DS, Sony Playstation 3, and Microsoft Xbox 360 video game systems.
Scott D. Simmons – Scott D Simmons is a comic book and sketch card artist and his work includes Star Wars, Voltron (Moonstone), Hack/Slash (Image), The Dead Cell (Arcana), Wannabez, Halloween Man and Mr. Jigsaw. Scott D. Simmons is the creator of Angelwolf Comics and Knights of P.O.W.E.R. In addition to his comic work, Scott works as a news and convention photo contributor for Comic Related.
Jamie Snell – Jamie Snell studied illustration and graduated from Columbus College of Art and Design. Jamie has been working on and off as a freelance illustrator for over 10 + years. Some of his credits include various sketch card sets from Topps (Star Wars: CW Movie and Seasons 1&2, Galaxy 4&5, ESB Widescreen, Terminator Salvation, Heroes Season 2, Indiana Jones Masterpieces & Crystal Skull, Lord of the Rings Masterpieces 2), 5finity: Voltron sketch cards, IDW Publishing: Beastwars Source book, Image Comics: Popgun Anthology Vol.1 , and various other inking projects. Last year Jamie had the privilege of producing two exclusive Star Wars posters for Lucas Films, Ltd, and Acme Archives: Celebrations V (Official Star Wars Convention) official print and the 30th Anniversary of Empire Strikes Back.
Todd Beistel & Doug Hufford – While still in high school, Todd self published Eye of the Probe, a comic anthology. He then went on to study illustration and graduate from CCAD. While in college, Todd wrote and illustrated Lost Souls, a graphic short story. Lost Souls was published by Hunter Productions.As years passed, Todd's interests evolved into fine art and graphic design. As a dedicated artist, he has been featured in venues throughout Ohio. On several occasions, he has contributed illustrations to accompany columnists such as Dave Barry and Click and Clack. Doug also studied at CCAD, but strangely evolved into a writer as time passed. He became known for his outlandish movie reviews during the late 90's. He made his home at Bumscorner.com, and often got picked up nationally by IMdB and Ain't It Cool News. Currently they are collaborating on the webcomic sensation, Yuri the Gypsy Hunter. Yuri the Gypsy Hunter is a decades spanning epic concerning an orphan, a rock band, and lots of teenage angst.
JD Larabee – JD Larabee is an Ohio native who has been drawing freelance cartoons, comic strips and comic books for over 20 years. J.D. is most know for his gag strips and art in the indie comic book 'Johnnie Zombie'. JD has provided the artwork for many children's books, and done animation work on several web series. Most recently his work was part of the hilariously infamous and politically incorrect 'Uncle Pete's Play time', as well as numerous shorts and character designs for Mr. Frights.
Molly Durst – Molly Durst is a professional, award winning graphic and web designer. She is a lifetime learner who is currently pursuing a bachelor's degree in web development, and has earned a scholarship from the Print Industry of Northern Kentucky and Ohio to pursue this goal. Molly's love of books began early (both of her parents are teachers). This passion for book arts drives her to self-publish her own stories. Her love of indie media and subculture attracts her to the bizarre world of small press comic books. Molly's work can be found here.
Mark LeMieux – Mark LeMieux is an artist with the innate ability for creative problem solving and the artistic skills of illustration, sculpture and acting. Mark has an Associate's Degree in Industrial Design Technology from the Art Institute of Pittsburgh, where he was an Honors Graduate while being employed full time. He is also the owner, director and lead artist of the freelance art company Platypus Productions, that specializes in sculpture, design work, pop culture art, comic illustration, film making, script writing and special effects make-up. Check out more at the website.
Joshua Peters – Joshua Peters returned to CCAD in 2005 and began his studies under the tutelage of many talented instructors including C.F. Payne, Andy Bawidamann and Dave Groff. While he was there, Josh was showcased in the 9th, 10th, and 11th Art of Illustration shows presented by CCAD. His incredibly cool "Over the Line" piece even brought home the C.F. Payne Judge's Pick award at the 11th. Not only that, but Josh's "Foo Fighters Poster" was exhibited in New York City at the annual Society of Illustrators Student Exhibition in the spring of 2008. His most recent release is the new child's book Matilda Turnips Endless Belly Button. See more of Josh's work at Lunchbox Unlimited.
Seth Lyons – Seth Lyons is a professional graphic artist Absolute Impressions Inc., a Lewis Center based print shop. He's also illustrated comics for a local publishing company, working on Stiletto Heights and Johnnie Zombie. After sitting in front of computers all day, designing for companies like Verizon, WCOL, and others, he decided it was time to return to basics. Painting the characters he loved in his youth and still today; Seth creates and sells highly detailed paintings of beloved comic, movie, and television characters. Also known for his love of insane collage pieces featuring hundreds of characters, Seth enjoys the time spent with his now growing family.
Max Ink – Max Ink is the creator of "Blink", a comic book series about three friends– Blink, Sam and Hank–living, working and enjoying life in Columbus, Ohio. "Blink" has been published as a graphic novel, in mini comics, in comic book anthologies (including Ken Eppstein's NIX Comics Quarterly) and from 2008-2010, it ran as a comic strip in the Short North Gazette. In 2009, Blink was nominated for the S.P.A.C.E.Prize See more of Max's work at his website.
Mike Eshelman – Mike Eshelman has created his own unique art form bringing his love of the past with his creative and relaxing hobby of art. From music to video games, DEVO to Commodore 64, he's a man of the 80's. With hundreds of hours and thousands of beads, Mike creates 8-bit fused beads art masterpieces. Samples of his work can be found on his website.
During our annual nerd night party we've got the following bands lined up:
The Fritz
Seven Book Trilogy
Tank Destroyer
Nerd Table
Mojomatic
Join Packrat Comics for our annual FCBD bash and Nerd Night celebration! You know you'll have fun! Invite a guest or two and plan on spending the day! Because you can't make it through in just a few minutes!
This is going to be one big twinkie!
Packrat Comics
3872 Lattimer Street, Hilliard, OH 43026