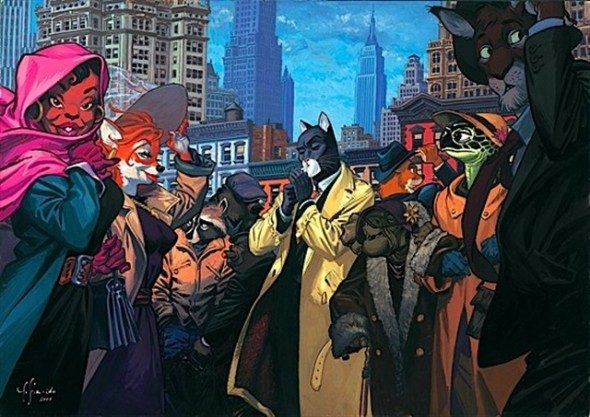 Press Release:
Joining the line up for the 2012 Big Wow ComicFest are Juanjo Guarnido (Blacksad), from France and Liam Sharp (Gears of War) from England. Two Award Winning artists, both traveling to San Jose to meet their fans at the Big Wow! ComicFest.
Juanjo Guarnido, best known here is the US for his work on Blacksad published by Dark Horse Comics will be make a rare appearance at this years Big Wow! He will be traveling from Spain to greet his fans. Dark Horse themselves are very excited about his appearance, since they have never had the chance to meet this talented artist.
Also coming from overseas to join the talented lineup at Big Wow! ComicFest is award winning Heavy Metal and DC Comics artist, Liam Sharp. A friend of the show, Liam is pleased to return to Northern California to greet his fans.
Visit the Big Wow! Convention site today and sign up for their Newsletter!
Three of the greatest painters have joined the guest list of this 2012's Big Wow! ComicFest. Along with other great talents at this years show in the art of painting (like Dan Brereton, Bernie Wrightson, Tim Bradstreet, Joe Linsner and more), Joe Jusko, James O'Barr and Mark Texeira have al agreed to make the West Coast trip and join the fans for the 2012 Big Wow! ComicFest.
James O'Barr (Best known for his creating "The Crow") is looking forward to joining the live art showcase and plans on challenging all the other artists to pick up a brush and just try to out do the creation he has in store for the fans, he wants to "raise the bar" on the quality of convention art.
Other amazing guests attending the Big Wow! ComicFest include Jim Lee (Sunday Only), Frank Cho, Bernie Wrightson, Travis Charest, Kevin Nowlan, Tim Bradstreet, Sergio Aragones, Joe Linsner, Michael Golden, Bob Layton, and many, many more top industry professionals! For a complete list of Guests click here.