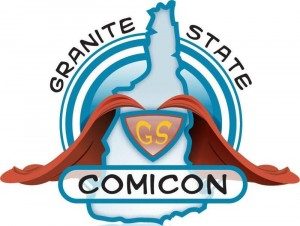 Granitecon in Manchester, NH takes place this year on Sunday, June 10th 2012! Save the date and stay tuned for more details as the show comes closer! RSVP on Facebook!
Keith Champagne! No stranger to Granitecon (his last show was in 2008!), Keith has written and drawn several books over the past 15 years including WWE Heroes, Green Lantern, Green Lantern Corps, Supergirl, Brightest Day, Ghostbusters and co-created The Mighty (to name a few of his projects)! We're happy to welcome Keith back up to the Granite State for our June 10th show!
Shelli Paroline and Braden Lamb! Both appearing at their first Granitecon, they have recently collaborated together on the Muppets and will be working together on the upcoming ADVENTURE TIME comic! And be sure you stop by your local comic shop on Free Comic Day in 2012 to pick up a copy of Adventure Time to have it be signed at the show!
Jason Ciamarella! Local author Jason is the co-writer with Joe Hill on Kodiak and the Eisner-nominated The Cape!
Mark McKenna! Appearing at his first Granitecon, Mark has worked on hundreds of books including Invincible Ironman, The Punisher, Aquaman, Exiles and most recently his creator owned series Banana Tail!
Mike Raicht! Appearing at his second Granitecon (his first was last year!), Mike has worked on a slew of projects for Marvel when he was an editor (including Wolverine, Exiles, and Black Panther, to name a few) and currently writes the limted series The Pack, while working on the series Stuff of Legend!
Ming Doyle! Attending her first ever Granitecon, Ming recently had drawn up the art for a short story in Fantastic Four #600! In the past, she has worked on Jennifer's Body, Hunter's Fortune, Popgun Anthology and Marvel's Girl Comics!