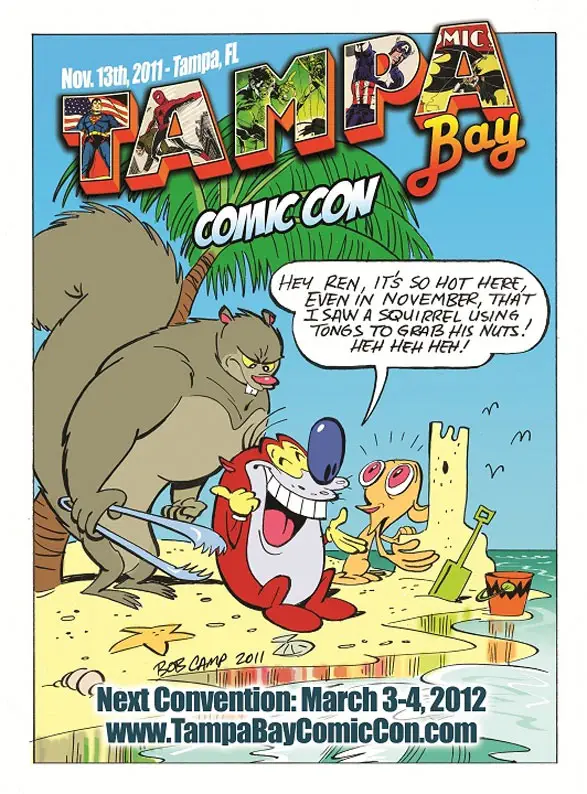 Press Release:
Tampa Bay Comic Con is Back and Looking Forward! 
November 2nd, 2011 – The Tampa Bay Comic Con is back with an exciting convention set for November 13th, 2011, and a very bright future on the horizon for 2012! The convention has brought in a fantastic roster of guests to headline the November 13th show. The roster includes: Bob Camp, the co-creator of the "Ren and Stimpy Show", Marvel Comics artist and wide scale storyboard artist for animated TV shows and movies. Camp also created the Tampa Bay Comic Con exclusive poster (featuring Ren and Stimpy) for the upcoming convention. Other guests include Larry Mainland and Sonya Thompson whom are both cast members and primary marketing zombies (featured as zombies on the cover of the Dec 2nd, 2010 issue of Entertainment Weekly) for AMC's TV series, "The Walking Dead" and films such as "Zombieland" and "Contagion". Additional guests include, Cary Nord, the critically-acclaimed artist known for his work on Conan the Barbarian, Bob McLeod, veteran artist of numerous titles and the co-creator of the X-Men spin-off, "New Mutants", long-time Spider-Man artist Alex Saviuk and Paul Pelletier who is widely known for his artistry in such titles as Green Lantern and Hulk.
The Tampa Bay Comic Con also announced that it will transform its decade-old format of three 1-Day conventions per year to a format entailing two, 2-Day conventions per year. With strong support from fans and exhibitors, convention management made this decision as they believe that with the recent surge in popularity and attendance, the convention had outgrown the 1-Day format. It is believed that a 2-Day convention format will allow for the attendance of even more high-profile guests from the world of comics and Hollywood.
Tampa Bay Comic Con will be held on Sunday, November 13th, 2011 at the Doubletree Hotel in Tampa, FL from 10:00am to 4:00pm. Admission is $5.00 for adults and free for children (12 and under). The address is:
4500 West Cypress Street
Tampa, FL 33607
Please e-mail: inquiries@tampabaycomiccon.com