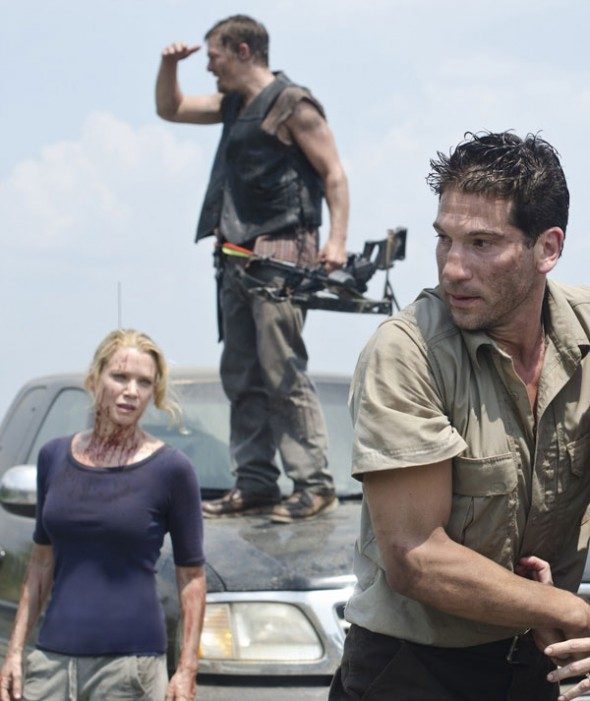 Press Release:
"THE WALKING DEAD" PANELISTS ARE ANNOUNCED FOR NEW YORK COMIC CON 
Participants Include Cast and Executive Producers; Sneak Peek at New Season; More Panelists May be Added!
Norwalk, CT, October 12, 2011:  Norwalk, CT, October XX, 2011:  Robert Kirkman, the Eisner Award-winning creator of The Walking Dead comic book will participate in a highly anticipated panel at New York Comic along with cast including Jon Bernthal, Laurie Holden, Steven Yeun, Chandler Riggs, Lauren Cohan and Norman Reedus.  Executive Producer Gale Anne Hurd and Co-Executive producer and Emmy Award winning Makeup Effects Artist Greg Nicotero will also participate on the panel.   Officials at AMC note that a sneak peek at the new season will be part of the presentation and still more participants may be added to the star-studded line up in the next day or two.  
AMC's The Walking Dead panel will take place in the IGN Theater – Presented by Sprint on Saturday, October 15th, 5:15pm – 6:15pm.  Cast members will do a limited signing for fans after the panel!  Tickets for the signing will be handed out first come, first served in Hall 1C on Saturday, 10/15 at 12 noon.  New York Comic Con is sold out of exhibit space and upwards of 100,000 people are expected to attend the show which takes place this week, October 13 – 16, 2011 at the Jacob K. Javits Center.
"I am hugely impressed with the panelists being provided by AMC for The Walking Dead panel," notes Lance Fensterman Show Manager for NYCC and Group Vice President for ReedPOP.  "This is going to be one of our signature events and I know that we will have thousands of fans who will want to come to hear and see these awesome personalities who have made The Walking Dead such a huge hit.  I can't thank AMC and all the participants of this panel enough for giving their time and talent to New York Comic Con."
The Walking Dead was a comic book series created by writer Robert Kirkman in 2003 which won the 2010 Eisner Award for Best Continuing Series.  A television series was announced in 2009 and premiered to enormous attention and acclaim on October 31, 2010.   The panel at New York Comic Con will focus on the success of season one and will discuss what to look forward to in season two.  The Walking Dead returns October 16 at 9pmEST/8pmCentral only on AMC.
Tickets for NYCC are on sale via the website www.NewYorkComicCon.com.  Limited 4-Day tickets are available.  Tickets will also be on sale on site this weekend, October 13 – 16.  Saturday one day passes are SOLD OUT!  For further information about all ReedPOP shows and activity, please visit Lance Fensterman's blog, www.MediumAtLarge.net.
ABOUT REEDPOP:  ReedPOP is a boutique group within Reed Exhibitions which is exclusively devoted to organizing events, launching and acquiring new shows, and partnering with premium brands in the pop culture arena.  ReedPOP is dedicated to producing celebrations of popular culture throughout the world that transcend ordinary events by providing unique access and dynamic personal experiences for consumers and fans.  The ReedPOP portfolio includes: New York Comic Con (NYCC), Chicago Comic and Entertainment Expo (C2E2), Penny Arcade Expo (PAX) East & West, Star Wars Celebration V, New York Anime Festival (NYAF), and UFC Fan Expo.  The staff at ReedPOP is a fan based group of professionals producing shows for other fans, thus making them uniquely qualified to service those with whom they share a common passion.  ReedPOP is focused on bringing its expertise and knowledge to world communities in North America, South America, Asia and Europe.