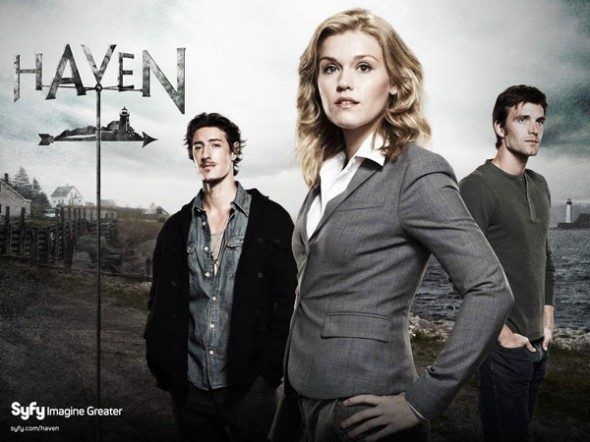 Press Release:
ENTERTAINMENT ONE BRINGS SYFY HIT SERIES HAVEN TO NEW YORK COMIC-CON
CAST TO PARTICIPATE IN PANEL ON FRIDAY OCTOBER 14TH
Los Angeles/Toronto – October 11, 2011 – Leading independent studio, Entertainment One (eOne) is proud to announce the cast of the Syfy hit series Haven will participate in the New York Comic-Con panel on Friday October 14th at 1:45pm in the IGN Theater.  In attendance will be Emily Rose (Jericho, Brothers and Sisters), Lucas Bryant (Queers as Folk, MVP) and Eric Balfour (24, Six Feet Under).
The hit summer series, based on the novella "The Colorado Kid" from renowned author Stephen King, follows former FBI agent Audrey Parker (Rose), who becomes a cop in the small town of Haven, Maine, and soon discovers the town's many secrets, which also holds the key to unlocking the mysteries of her lost past.
The creative team behind Haven includes Executive Producers John Morayniss (The Firm, Hell on Wheels) and Noreen Halpern (Hung, Rookie Blue) from eOne Television and David MacLeod (Legends of the Fall, The Ray Bradbury Theater) of Big Motion Pictures, who are joined by Lloyd Segan, Shawn Piller, Scott Shepherd (Stephen King's The Dead Zone) and Matt McGuiness (Journeyman) as well as Sam Ernst & Jim Dunn (Stephen King's The Dead Zone), who also developed the series.
From leading independent producer Entertainment One, Haven is co-commissioned by Shaw Media in Canada and globally via Universal Networks International (UNI).
Haven is produced by Entertainment One and Big Motion Pictures in association with Piller/Segan/Shepherd and airs on Syfy in the U.S., Showcase in Canada and internationally on UNI's multiple Syfy Universal channels. Entertainment One controls the worldwide distribution rights to the one-hour series and concluded a deal with Germany's Tele München Group (TMG) for the television rights in Continental Europe.
Haven Season 1 is now available on DVD and is distributed by Entertainment One.
About Entertainment One
Entertainment One Ltd. (LSE:ETO) is a leading international entertainment company that specializes in the acquisition, production and distribution of film and television content.  The company's comprehensive network extends around the globe including Canada, the U.S., the UK, Ireland, Benelux, France, Germany, Scandinavia, Australia, New Zealand and South Africa.  Through established Entertainment and Distribution divisions, the company provides extensive expertise in film distribution, television and music production, family programming and merchandising and licensing. Its current rights library is exploited across all media formats and includes more than 20,000 film and television titles, 2,500 hours of television programming and 45,000 music tracks