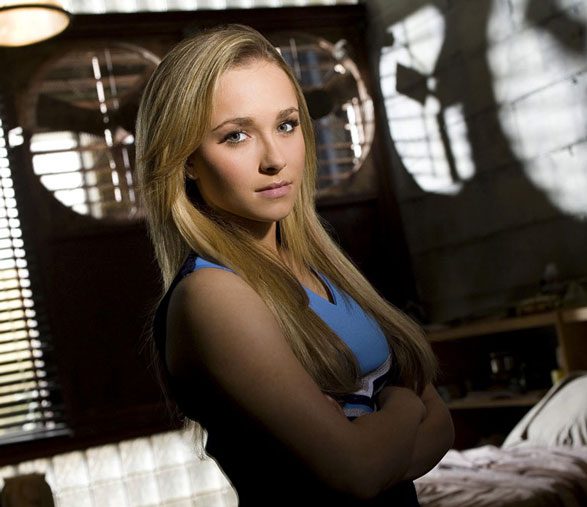 Press Release:
TOP 10 MUST SEES AT FAN EXPO CANADA™
The ultimate four-day fan experience adds Heroes star HAYDEN PANETTIERE and the one and only WILLIAM SHATNER to line-up!
TORONTO, ON (August 17, 2011) – Only eight more days until FAN EXPO CANADA™ arrives in Toronto!   Canada's premier combined gaming, horror, comic, science fiction and anime event – the third largest in the world – is celebrating 17 years of Comic-Con North!  This year's expanded four-day festival takes place August 25-28, 2011 at the Metro Toronto Convention Centre showcasing more than 600 exhibitors and retailers covering over 250,000 square feet.
Tickets to FAN EXPO CANADA™ are on sale in advance until August 21st and available at the door.  Prices range from $79 (DELUXE Fan Expo Pass); and SINGLE Fan Expo Passes from $40, $30 and $25.  All prices include HST and are available through the FAN EXPO CANADA™ website, www.fanexpocanada.com.
In addition to NEW features and events including Nerd Speed Dating, fans can also expect returning popular favourites such as Canada's largest costume Masquerade, Artist Alley, Sketching Duels, National Gaming Tournaments and, of course, celebrity autograph and Q&A panels.  For the complete programming schedule, visit www.fanexpocanada.com.
TOP 10 MUST SEES AT FAN EXPO CANADA
CANADA'S LARGEST COSTUME MASQUERADE – SATURDAY NIGHT ONLY! 8PM (All genres) If you've never been to a masquerade or costume play, THIS is the one to attend!  This annual event features creative fans showcasing their original costumes derived from the comic, sci-fi, horror, anime and fantasy worlds – all on stage for a chance to win bragging rights.  Master of Ceremonies, Gordon Rose, brings you the most popular event of the weekend and the largest show of its kind in Canada!
(Saturday, Aug. 27, 8 pm, Hall G)
NERD SPEED DATING (All genres)
For the first time ever, speed dating is coming to FAN EXPO CANADA™!  Come and enjoy good music, great company, and the thrilling potential to meet your soul mate!  Each genre will have its own session and is free for all attendees!  This is the perfect opportunity to seek out like-hearted individuals at the biggest fan party of the year!  This event is for adults 18 years of age or older.
(Thursday-Saturday, various times, Room 803)
TELETOON CANADA PRESENTS THE WORLD PREMIERE OF "STAR WARS: CLONE WARS"
Season Four, Episode One (Sci-Fi)
The season will be an exciting one where viewers will see the heroic Jedi Knights and their clone army fight to preserve order.  Season four will show efforts met with strong resistance from the massive Separatist droid army.  Escalating and expanding into uncharted corners of the galaxy, Star Wars: The Clone Wars grows with exotic adventures and enhanced animation.  Within the galactic battle, fearsome foes from the past return to settle the score, including lethal adversaries such as bounty hunter Cad Bane and the monstrous Savage Opress.  Hosted by TELETOON at Night's Fred Kennedy, fans in attendance will get the chance to win one of three mystery prize packs to be revealed onsite.
(Saturday, Aug. 27, 5 pm, Room 718)
SKETCHING DUELS (Comic)
Check out your favourite comic artists as they go pen to pen!  The original art they produce goes up for grabs once they're done!  An amazing experience to witness, these friendly competitions show who's got the edge in comic book illustration!
(Thursday-Sunday, various times, Room 716)
STAR WARS – JEDI SCHOOL (Sci-Fi/Fantasy)
Lightsaber Dueling Demo & Workshop.  How do Jedis do it?  It looks so cool!  Find out here.
(Saturday, Aug. 27, 4 pm, Room 715B)
501ST GRAND MARCH
Have your cameras ready as the 501st Legion of Stormtroopers march the floor en masse as they travel to the location of their much looked forward to Grand Assembly photo opportunity.  When they get rolling they can't stop, so get your shot and then get yourself to the Gallery on 800 for the Assembly.
(Saturday, Aug. 27, 5 p.m., 800 Level)
REMEMBERING FRIGHTENSTEIN
Join VICTORIA PRICE and producer/co-star MITCH MARKOWITZ as we take a walk down memory lane of The Hilarious House of Frightenstein, Canada's legendary monster kid's show starring Vincent Price and Billy Van.  Moderated by Rue Morgue's Paul Corupe!
(Friday, Aug. 26, 5 pm, Room 715B)
ANIMOTION J POP DANCE (Anime)
Coming to you from the heart of downtown Toronto, Fan Expo is proud to present our annual J-Pop dance. Featuring a mix of the hottest hits from the hottest shows, to classics everyone remembers and loves, ANIMOTION promises to give you the beats to unleash your inner dance machine!
LOLITA FASHION 101 (Anime)
Lolita,a Japanese street fashion know for its intricate and delicate doll-like look, has become one of the most recognized street stylesin Japan, and is now a popular movement in North America.  Members of 'The Southern Ontario Lolita Community' will give you an opportunity to find out all about this growing fashion style and how to get involved in it!  Check out the fashion show too!
(Sunday, Aug. 28, 1 pm, Room 707; Fashion Show, Sunday, Aug. 28, 1:30 pm, Room 718)
VIDEO GAME TOURNAMENTS and CARD TOURNAMENTS (Gaming)
GX offers the largest destination for live competitive console and PC gaming tournaments featuring all the latest and hot titles.  GX has been the site of the Canadian National Championships for Magic: the Gathering, Pokemon, and UFS Universal Fighting System, and is hosting the national championship for the Great Canadian Board Game Blitz.  FAN EXPO CANADA™ is home to the largest gathering of gamers in the country!
(Daily, various times and locations)
FAN EXPO CANADA™ recently announced its stellar line up of celebrity guests comprising of the world's most legendary names in pop culture, many of today's hottest film and television stars, as well as industry luminaries including:
Sci-Fi / Fantasy:
ANTHONY DANIELS (Star Wars)
ELIZA DUSHKU (Dollhouse)
TOM FELTON (Harry Potter)
LARRY HAGMAN and BARBARA EDEN (I Dream of Jeannie)
LEE MAJORS (The Six Million Dollar Man)
HAYDEN PANETTIERE (Heroes) – NEW
KATEE SACKHOFF (Battlestar Galactica)
ROBERT J. SAWYER (Bestselling author of Flashforward)
WILLIAM SHATNER (Star Trek) – NEW
KEVIN SORBO (Hercules)
SAM TRAMMELL (True Blood)
Horror:
ROBERT ENGLUND (A Nightmare On Elm Street)
JOHN WATERS (Legendary director of Pink Flamingos, Multiple Maniacs, Serial Mom)
MARTIN LANDAU (Ed Wood) – NEW
JOHN ASTIN (The Addams Family)
DOUG BRADLEY (Hellraiser)
HEATHER BREWER (NY Times bestselling author of The Chronicles of Vladimir Tod)
LANCE HENRIKSEN (Aliens)
VICTORIA PRICE (Daughter of Vincent Price and author of A Daughter's Biography)
STEVEN SEVERIN (London Punk pioneer and founder of Siouxsie And the Banshees)
Comic:
CHRIS CLAREMONT (Legendary Comic Writer) – NEW
DAVID FINCH (Batman:The Dark Knight Artist) – NEW
JOE KUBERT (Legendary Comic Book Artist)
ADAM KUBERT (Artist of ASTONISHING SPIDER-MAN & WOLVERINE)
ANDY KUBERT (Artist of BATMAN & FLASHPOINT)
JEFF SMITH (Cartoonist Guest of Honour – Creator of BONE)
DOUG SNEYD (Legendary Playboy cartoonist)
CLAY MANN (Artist — X-Men: Legacy) – NEW
Anime:
JASON DELINE, SHAWN MEUNIER (Stars of Bakugan)
MIKE MCFARLAND, CHRIS SABAT (Stars of Dragonball Z)
JUNKO MIZUNO (Acclaimed manga artist)
VIC MIGNOGNA (Star of Fullmetal Alchemist:Brotherhood)
VERONICA TAYLOR (Star of Pokemon)
Gaming:
JARETT CALE, GEOFF LAPAIRE (Pure Pwnage)
ROBIN D. LAWS (Author – Dungeons & Dragons, Heroquest)
ED GREENWOOD (Author of Forgotten Realms)
VICTOR LUCAS, SHAUN HATTON (The Electric Playground)
For the complete list of celebrity guests, go to www.fanexpocanada.com.
TICKET DETAILS: All advance ticket sales are available August 21st through the Fan Expo Canada
website: www.fanexpocanada.com.  (All prices include HST)
DELUXE Fan Expo Pass: $79 — BEST VALUE, LIMITED QUANTITIES
·        Includes unlimited access to Fan Expo Canada for up to 4 days
·        Access to Special Expo Preview on Thursday, August 25 at 2:00 pm
·        (Excludes special ticketed events and anything otherwise noted)
SINGLE Fan Expo Pass:
·        Includes unlimited access Fan Expo Canada on specified date
·        (Excludes special ticketed events and anything otherwise noted)
Thursday, August 25, 2011
(starting at 4pm)
Friday, August, 26, 2011
Saturday, August 27, 2011
Sunday, August 28, 2011
$25$30
$40
$30
SHOW DETAILS:
WHEN: AUGUST 25- 28, 2011
Thursday, August 25Friday, August 26
Saturday, August 27
Sunday, August 28

WHERE:

2:00 pm – 4:00 pm (Special Preview for Deluxe Pass holders)
4:00 pm – 9:00 pm
10:00 am – 8:00 pm
10:00 am – 8:00 pm
10:00 am – 6:00 pmMetro Toronto Convention Centre South Building
222 Bremner Blvd, Toronto, Ontario, Canada
For more information visit, www.fanexpocanada.com