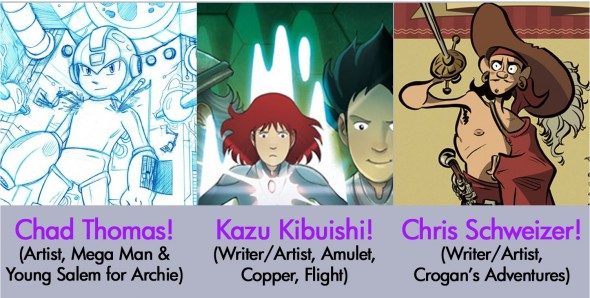 Kazu Kibuishi, Chris Schweizer, and Chad Thomas sign at Rogues Gallery on Saturday, June 25th!
Press Release:
Join us for our all-ages awesomeness event, featuring guests Chad Thomas (Mega Man, Young Salem), Kazu Kibuishi (Amulet, Copper, Flight) and Chris Schweizer (Crogan's Adventures)!
Kids can talk to comic book artists about comics and drawing, and everyone can get autographs! Free sketches will be available for as many folks as time allows for, and we'll have a small selection of free comics early on in the day!
We'll have items for sale from all of the guests, including Chad's Mega Man #1 variant cover, volumes of Amulet, Copper, and Crogan's Adventures, plus Chris Schweizer's new sketchbook!
Rogues Gallery 
1601 S IH-35 #360, Round Rock, TX