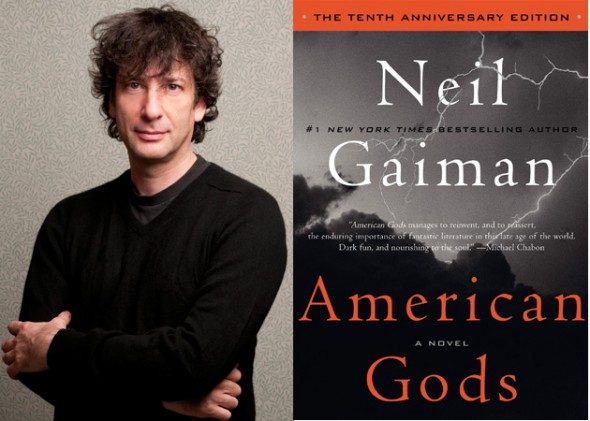 Neil Gaiman speaks at the Music Hall in Portsmouth, NH on Wednesday June 22, 2011 at 7:30 pm.
Press Release:
The Music Hall and New Hampshire Public Radio present: "One of the top ten living post-modern writers" (Dictionary of Literary Biography) takes the stage to discuss the tenth anniversary edition of American Gods, his classic work which was a New York Times bestseller in 2001 and awarded the Hugo, Nebula, Bram Stoker, SFX, and Locus awards.
Gaiman is a prolific creator of works of prose, poetry, film, journalism, comics, song lyrics, and drama.  His children's novel Coraline, published in 2002, was also a New York Times and international bestseller and an enormous critical success; it won the Elizabeth Burr/ Worzalla, the BSFA, the Hugo, the Nebula, and the Bram Stoker awards. Director Henry Selick made the film "Coraline," with music provided by the band They Might Be Giants.
The literary evening features an author presentation followed by an onstage interview with Virginia Prescott, host of New Hampshire Public Radio's "Word of Mouth." Live music performed by the award-winning house band Dreadnaught. Rebroadcast on NHPR.
BOOKS:
A signed book is a great gift and a wonderful addition to any personal library. A book voucher is necessary for a signed copy. Purchase your book voucher ahead of time and save 10% off the retail price. Available at RiverRun Bookstore and The Music Hall box office. Want to read the book before you hear the author speak and still get a discount?  You can buy an unsigned copy as soon as RiverRun has them available for a 10% discount when you show your ticket to the show at the bookstore counter.
American Gods: $26.99 ($24.30 in advance) Buy a voucher.
Getting your Book:
Vouchers may be redeemed for books immediately following the event at The Music Hall. Vouchers may also be redeemed at RiverRun Bookstore after the evening of the event. No books will be mailed.
Tickets
Prices: $13; $11 (members)
On Sale
Members: noon Thu May 19
Public: noon Wed Jun 1
Buy tickets online, over the phone or in person. Members get the best seats.
The Music Hall
28 Chestnut St, Portsmouth, NH 03801