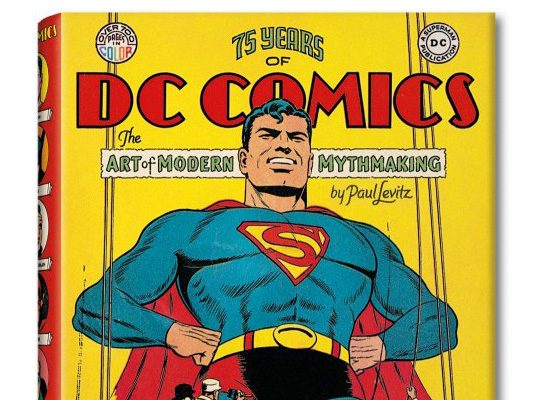 Jim Lee, Geoff Johns, Paul Levitz, and Patton Oswalt appear at the Hammer Museum on Tuesday December 14th at 7pm.
Within its short 75-year lifespan, DC Comics has created and destroyed entire cities, worlds, and universes with a cast of characters that includes the titans of the Superhero world. Comedian, actor, and writer Patton Oswalt will moderate a discussion among author Paul Levitz, DC Comics' Jim Lee (Co-Publisher of DC Comics), and Geoff Johns (Chief Creative Officer of DC Entertainment), the creative and editorial superheroes behind the pages of Batman, Superman, Wonder Woman, The Flash and Green Lantern, who will discuss the pulp origins of DC Comics' story lines and characters, as well as the future of digital publishing.
The discussion will be followed by a booksigning of Paul Levitz's recently published 75 Years of DC Comics: The Art of Modern Mythmaking. Published by TASCHEN, this single most comprehensive book on DC Comics (with 720 pages and weighing nearly 16 pounds) includes more than 2,000 images—covers and interiors, original illustrations, photographs, film stills, and collectibles—reproduced using the latest technology to bring the story lines, the characters, and their creators to life. The book includes year-by-year timelines that fold out to nearly four feet and biographies of the legends who built DC Comics, the largest English language publisher of comic books in the world.
Patton Oswalt is a comedian, writer, and actor, and author of the forthcoming Zombie Spaceship Wasteland. As a comedian, Oswalt has shot three TV specials and three critically acclaimed albums, and starred in the documentary The Comedians of Comedy. His Comedy Central One Hour Special My Weakness Is Strong received a Grammy nomination and in 2009 Oswalt won critical acclaim in the feature film Big Fan. Oswalt also provided the voice for Remy, the rat, in Pixar's Oscar-winning Ratatouille. He tours regularly both nationally and internationally.
Paul Levitz is the author of 75 Years of DC Comics: The Art of Modern Mythmaking. Levitz is a comic-book fan who has worked as editor/publisher of The Comic Reader, editor of the Batman titles and others, writer of over 300 stories—including an acclaimed run on Legion of Super-Heroes—and a DC Comics executive, finishing his 38-year stint with the company as President and Publisher. He returned to writing in 2010 with a new series of Legion stories and other projects.
Jim Lee is the Co-Publisher of DC Comics with Dan DiDio. He has illustrated several titles including Batman: Hush, Superman: For Tomorrow, All Star Batman and Robin, The Boy Wonder, WildC.A.T.s, and the forthcoming Dark Knight: Boy Wonder. He has received a Harvey Award, an Inkpot Award, and three Wizard Fan Awards in recognition of his work.
Geoff Johns began his comics career writing Stars and S.T.R.I.P.E. and JSA for DC Comics. He has worked on several titles including The Flash, Green Lantern, Action Comics, Teen Titans, and 52, and wrote the bestselling graphic novel Superman: Brainiac. In 2010 he was appointed Chief Creative Officer of DC Entertainment.
ALL HAMMER PUBLIC PROGRAMS ARE FREE. Tickets are required, and are available at the Billy Wilder Theater Box Office one hour prior to start time. Limit one ticket per person on a first come, first served basis. Hammer members receive priority seating, subject to availability. Reservations not accepted, RSVPs not required.
Parking is available under the museum for $3 after 6:00pm
Hammer Museum
10899 Wilshire Blvd, Los Angeles, CA 90024