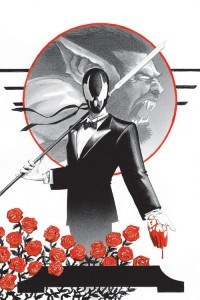 Columbus, OH – July 27, 2010 – Mid-Ohio-Con announced today that creator Matt Wagner has joined the guest roster for Mid-Ohio-Con 2010.  "Matt's work on indie and mainstream characters alike has received critical acclaim and cultivated a huge fan base for the virtuoso creator during his 20+ year career in comics.  We're thrilled to welcome Matt as a special guest for our 30th anniversary show," said James Henry, Managing Director of Mid-Ohio-Con.
Perhaps best known for his two indie creations, the mastermind assassin, Grendel, and his more personal allegory, Mage, Matt has also worked for DC and Vertigo on their flagship characters, including his ground-breaking treatment of the Batman villain, Two-Face, in the graphic novel, Faces, as well as a five-year stint on the fan-favorite Vertigo title, Sandman Mystery Theatre. 
Matt has written and drawn several other high profile projects for DC, including Trinity, a three-issue prestige series starring Superman, Batman, and Wonder Woman, and Dark Moon Rising, a year-long, project that chronicled some of the earliest aspects of Batman's career.  Matt's more recent work in comics includes writing the Dr. Mid-Nite mini-series for DC Comics and serving as the regular cover artist on the Kevin Smith-penned relaunch of Green Arrow.
Now entering its 30th year, Mid-Ohio-Con is one of America's longest-running and most successful comic book and pop culture conventions. Each year, Mid-Ohio-Con brings fans of all ages together with leading comic book writers and artists, film and television creators and stars, as well as publishers and retailers from across the nation. Mid-Ohio-Con 2010 will be held on November 6-7 at the Greater Columbus Convention Center in Columbus, Ohio. Visit us online at www.midohiocon.com.