Press Release:
Hero Initiative at Chicago's C2E2
Plans to party with Kirby Krackle and The Fuglees, tattoo a lucky fan and release new Witchblade fragrances!
All in the name of charity!
April 13, 2010: C2E2 – short for the Chicago Comic & Entertainment Expo – is the latest convention spanning the greatest in the worlds of comics and pop entertainment. Hero Initiative, the non-profit organization raising money for comic creators in hard times, will be joining in the fun April 16-18 at the Lakeside Center McCormick Place in Chicago, IL. Action-packed weekend festivities include artists such as Adam Kubert sketching for fans, parties at nearby Reggie's Rock Club, auctioning off a custom tattoo, and premiering new fragrances. And it all happens in the middle of the best gathering of popular culture in downtown Chicago!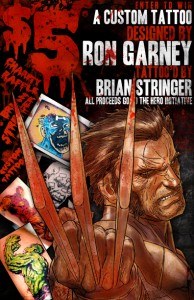 The most generous and talented Adam Kubert will sketch four—only four!—drawings the whole weekend at C2E2, and will do these exclusively for Hero. Raffle tickets to purchase these coveted gems will be available at the booth Friday and Saturday morning for $1 each. Winning tickets will be picked at 2:30 pm on Saturday. Each sketch will be $250. All proceeds will go directly to Hero Initiative.
We'll try just about anything to raise money, and so will Ink Fusion tattoo artist Brian Stringer! You can also purchase $5 raffle tickets to get a tat from Brian designed by Marvel Comics all-star artist Ron Garney! Tickets will be available all day Friday and until 12:45 on Saturday at both the Hero and Ink Fusion booths. Drawing takes place at the Hero booth Saturday at 1 PM. Ron will be signing at the Hero Initiative booth from 1-3 PM on Saturday, and will draw the winning ticket himself and create the winner's design. The raffle winner will get his (or her) tattoo from Brian Stringer at 11 AM on Sunday. For full details, see: http://tinyurl.com/y2jp97g
Enjoy the con during the day, but make sure you spend your evenings at Reggie's Rock Club, 2109 S. State St.! It's only about four blocks from the convention center, but FREE shuttle buses decked out with demons and skulls will be running between the con and Reggie's! Events include:
Saturday night, 7:00 PM, KIRBY KRACKLE and THE FUGLEES! Kirby Krackle features comic store owner and convention promoter Jim Demonakos, while the Fuglees are fronted by artist Andy Kuhn! $5 cover at the door for this event. The party continues following the show with live art, music played by various DJs and dancing SHOJO SHOWGIRLS. The parties don't stop 'til 3 AM!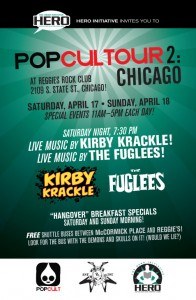 In addition all day Sunday at Reggie's, the Custom PopCult Art Show features the work of SHAWNIMALS, JIM MAHFOOD, JOSH BLAYLOCK, STEVE SEELEY, JOEY POTTS, MIKE HUDDLESTON and a host of others, all doing their own custom versions of Drippy, the PopCult mascot. 25% of the money goes to Hero, and the rest to the hard-working artists. In Addition, everyone's favorite parody news source, THE ONION will be on hand with their Pop Culture trivia, and harvesting photos of volunteers for use in their articles. Yes, YOU could be "Area Nerd" in a future The Onion piece.
Also at Reggie's on Sunday form Noon to 2:00pm, Black Phoenix Alchemy Lab will hold a "Meet-'n'-Sniff"! The scent-makers at BPAL will be debuting a NEW Witchblade scent at C2E2, and even if you can't make the scene at the con, swing by to meet up with other Black Phoenix fans and sniff and trade scents!
Hero Initiative's booth schedule at the con as follows:
FRI, 16 APR.
1230-230: Gordon Purcell
SAT, 17 APR:
100-300:Ron Garney
230-430: Adam Kubert, 4 head sketches only, $1 raffle, $250
SUN, 18 APR:
1030-1230: Chris Samnee
130-230: Jimmy Cheung
230-330: Bill Reinhold
About The Hero Initiative:
The Hero Initiative is the first-ever federally chartered not-for-profit corporation dedicated strict to helping comic book creators in need. Hero creates a financial safety net for yesterday's creators who may need emergency medical aid, financial support for essentials of life, and an avenue back into paying work. It's a chance for all of us to give back something to the people who have given us so much enjoyment.
Since its inception, The Hero Initiative has had the good fortune to grant over $400,000 to the comic book veterans who have paved the way for those in the industry today. For more information, visit www.heroinitiative.org or call 626-676-6354.