Press Release:

Comic Book Legend Stan Lee To Conduct Free Limited Signing, Panel With Avi Arad And Photo-op Session At Anaheim Comic Con
NEW YORK and ANAHEIM, Calif., April 12, 2010 – Stan Lee, the iconic comic book writer, editor, actor, producer, publisher, television personality, and former president and chairman of Marvel Comics, will conduct a limited free signing, photo session, and interactive panel discussion as part of a full day on Saturday at Anaheim Comic Con at the Anaheim Convention Center. One hundred lucky fans, selected by random draw, free of charge, will participate in the autograph session.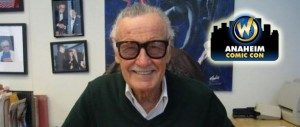 Mr. Lee will join legendary producer Avi Arad in a panel, beginning at 10:30 a.m. Saturday, moderated by Wizard Magazine Editor Mike Cotton. Mr. Lee will conduct the last hour of the panel himself in a Q&A format with fans (11 a.m.-noon).
At 12:30 p.m., Mr. Lee will sign 100 copies of Ultimo, which will be sold at the Wizard booth on Friday and Saturday, on a first-come, first-served basis, for $5.99, while supplies last. Any purchase of Ultimo on Friday automatically gets you into the autograph session on Saturday.
At 2 p.m., the free signing for the random draw winners will take place at the Wizard booth.
At 3:30 p.m., fans can pose with Stan at the "Photos with Froggy" booth (#959), also first-come, first-served. The fee for photos is $40.00 each. Attendees are encouraged to sign up early on Friday for the Saturday session, as photo-ops will sell out quickly! Visit http://www.froggysphotos.com/anaheim.htm to reserve in advance.
In order to enter the raffle, fans can pick up their tickets between 10 a.m. and 1:30 p.m. on Saturday at the Wizard booth. The drawing will take place at 2 p.m., and those 100 whose numbers have been selected to participate may then line up to meet Stan and receive their one autograph.
With several artist co-creators, most notably Jack Kirby and Steve Ditko, Mr. Lee co-created Spider-Man, the Fantastic Four, the X-Men, Iron Man, the Hulk, Thor, Daredevil, Doctor Strange, and many other fictional characters, introducing complex, naturalistic characters and a thoroughly shared universe into superhero comic books. In addition, he headed the first major successful challenge to the industry's censorship organization, the Comics Code Authority and forced it to reform its policies. Mr. Lee subsequently led the expansion of Marvel Comics from a small division of a publishing house to a large multimedia corporation.
Anaheim Comic Con which runs Friday through Sunday, is a major pop culture convention bringing together fans of comics, toys, collectibles and offering a chance to see actors, writers, artists and the best each industry has to offer.
To recap Stan Lee's Anaheim Schedule for Saturday, April 17:
• 10:30 – 11 a.m. – Stan Lee with Avi Arad – Room 204B. Moderated by Mike Cotton, Wizard Magazine Editor
• 11 a.m. – Noon – Stan Lee Q&A – Room 204B. Moderated by Mike Cotton, Wizard Magazine Editor
• 12:30 – 1:30 p.m. – Ultimo Signing – Wizard Booth #313. Must have purchased Ultimo on Friday ($5.99) at Wizard Booth #313.
• 2 – 3 p.m. – Free signing for 100 people chosen by random drawing. Signing will be at the Wizard Booth #313. Must pick up tickets @ Wizard Booth Saturday morning between the hours of 10 a.m. – 1:30 p.m.
• 3:30 – 4 p.m. – Photo Ops @ Photos with Froggy (Booth #959). Cost is $40 each. Must sign up in advance on site on Friday or Saturday, or anytime via http://www.froggysphotos.com/anaheim.htm.
About Wizard Entertainment:
Gareb Shamus founded Wizard Entertainment in 1991. Today, Shamus publishes consumer magazines Wizard, ToyFare, FunFare and numerous books about pop-culture's top talent, comic books and toys. Shamus also produces a North American Comic Con tour.
Wizard World Comic Con Tour:
March 26-28, 2010, Toronto Comic Con, Direct Energy Centre
April 16-18, 2010, Anaheim Comic Con, Anaheim Convention Center
June 11-13, 2010, Philadelphia Comic Con, Pennsylvania Convention Center
August 19-22, 2010, Chicago Comic Con, Donald E. Stephens (Rosemont) Convention Center
October 1-3, 2010, New England Comic Con, John B. Hynes Veterans Memorial Convention Center
October 7-10, 2010, Big Apple Comic Con, Pier 94
October 15-17, 2010, New Jersey Comic Con, New Jersey Convention and Expo Center
November 12-14, 2010, Austin Comic Con, Austin Convention Center
December 3-5, 2010, Atlanta Comic Con, Cobb Galleria Centre
March 25-27, 2011 – Toronto Comic Con, Direct Energy Centre
Cincinnati Comic Con, TBD
Cleveland Comic Con, TBD
Nashville Comic Con, TBD