Press Release:

Anaheim Comic Con "Charmed" To Add Shannen Doherty, Holly Marie Combs To Lineup
Duo Who Played Sisters on hit TV Series "Charmed" to Appear in Anaheim Saturday, April 17
NEW YORK and ANAHEIM, Calif., April 9, 2010 – Actresses Shannen Doherty and Holly Marie Combs, who both starred in the TV series "Charmed," will appear at Anaheim Comic Con on Saturday, April 17, at the Anaheim Convention Center.
Doherty, who portrayed "Prue Halliwell" in "Charmed," is also known for her key roles in the series "Beverly Hills, 90210," in which she played "bad girl" "Brenda Walsh," and the movies Heathers and Mallrats, which have become cult favorites. Doherty was recently a celebrity contestant on ABC's "Dancing with the Stars" program.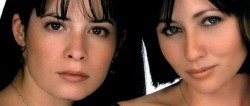 Combs, who played "Piper," the younger sister of "Prue" in "Charmed," had earlier landed her first major role as 'Kimberly" in "Picket Fences," which ran for four seasons.
Anaheim Comic Con, set for April 16-18, brings together fans of comics, toys, collectibles and offers a chance to see actors, writers, artists and the best each industry has to offer.
For more Anaheim Comic Con guest and programming updates, check out our fan page ANAHEIM COMIC CON on Facebook.
Save up to 15 percent off the price of tickets by ordering your tickets in advance. Tickets are priced higher at the door.
About Wizard Entertainment:
Gareb Shamus founded Wizard Entertainment in 1991. Today, Shamus publishes consumer magazines Wizard, ToyFare, FunFare and numerous books about pop-culture's top talent, comic books and toys. Shamus also produces a North American Comic Con tour.
Wizard World Comic Con Tour:
March 26-28, 2010, Toronto Comic Con, Direct Energy Centre
April 16-18, 2010, Anaheim Comic Con, Anaheim Convention Center
June 11-13, 2010, Philadelphia Comic Con, Pennsylvania Convention Center
August 19-22, 2010, Chicago Comic Con, Donald E. Stephens (Rosemont) Convention Center
October 1-3, 2010, New England Comic Con, John B. Hynes Veterans Memorial Convention Center
October 7-10, 2010, Big Apple Comic Con, Pier 94
October 15-17, 2010, New Jersey Comic Con, New Jersey Convention and Expo Center
November 12-14, 2010, Austin Comic Con, Austin Convention Center
December 3-5, 2010, Atlanta Comic Con, Cobb Galleria Centre
March 25-27, 2011 – Toronto Comic Con
Cincinnati Comic Con, TBD
Cleveland Comic Con, TBD
Nashville Comic Con, TBD