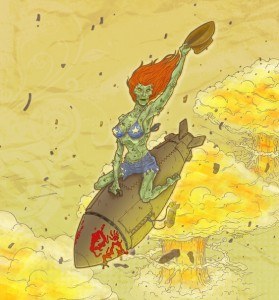 Boston Comic Con is happy to host the launch of ZombieBomb! from Terminal Press. Series creators Adam Miller and Rich Woodall will be on hand with the first copies available anywhere. Be sure to stop by their booth and pick up the exclusive blank cover edition, ready for sketches.
About ZombieBomb!:
The reanimated brainchild of Adam Miller and Rich Woodall, ZombieBomb!: Dead Not Dead is the first in a series of ZombieBomb! anthologies featuring top creators putting their spin on the cranium-chomping, lumbering legends. Each creative team involved has crafted their own unique interpretation of the subject matter, ensuring fans a diverse and original experience. From classic horror to offbeat alternative to whimsical comedy, the stories and artwork manage to breathe life into the undead and keep the rotting corpses fresh.
 
 
ZombieBomb!: Dead Not Dead features the talents of Shawn McManus (Sandman, Swamp Thing), Tomm Coker (Marvel, DC, Image), Neil Vokes (Marvel, DC, Image), Jack Herman (Terminator, Elementals), Paul Maybury (Image),  Matt Roberts (Image), Jason Copland (Image), Joe Haley (The Underburbs), Narek Gevorgian (Terminal Press, Elite Gudz), Matty Field, Jerry Morrissette, Tony Donley, Tom Whalen, Josh Morrissette, Veronica Hebard, Anthony Schiavino and Steve Jones.
 
 ZombieBomb! Dead Not Dead is available right now at TerminalPress.com. 
 
 Visit the Terminal Press Fan Page 
 
 Visit the ZombieBomb! Fan Page 
About Boston Comic Con:
The Boston Comic Con is in its fourth year of producing independent comic book shows and is committed to bringing the biggest and best comic book show to New England. Previously announced guests include Jim Lee, Mike Mignola, Eric Powell, JH Williams III, Joseph M. Linsner, Sergio Aragones, Amber Benson, Ben Templesmith, Bill Sienkiewicz, Billy Tan, Cameron Stewart, Christopher Golden, Craig Rousseau, Eva Hopkins, Jim Mahfood, Jim Starlin, Joe Jusko, Joe Quinones, Mark Chiarello, Michael Golden, Norman Lee, Skottie Young, Steve Rude, Pat Broderick, and many more!
The Boston Comic Con hosts over 22,000 square feet of vendors selling comic books, toys, posters, trading cards, and other pop culture memorabilia. The event will be held Saturday April 10th and Sunday April 11th at the Westin Waterfront, 425 Summer Street, Boston, MA from 10am to 5pm. Admission is $15 each day. For more information please go to the website.