PUBLISHER RETURNS TO THE EMERALD CITY WITH SPECIAL GUESTS, EXCLUSIVES AND GIVEAWAYS
TOP COW AT EMERALD CITY COMICON 2010
LOS ANGELES, Calif., March 8, 2010 – Top Cow Productions, Inc. announced its plans today for this weekend's Emerald City ComiCon, the Pacific Northwest's premier comic book and pop culture convention.  This year's Emerald City ComiCon will be held at the Washington State Convention Center on March 13-14, 2010.  Fans are encouraged to stop by the Top Cow booth (#304) to meet their favorite creators, pick up the Emerald City ComiCon convention variant as well as their favorite Top Cow comics.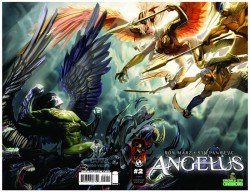 Top Cow creators who will be exhibiting at Emerald City ComiCon include Ron Marz (Witchblade), Phil Hester (The Darkness), Michael Broussard (The Darkness), William Harms (Impaler), Eric Basaldua (Witchblade Annual) and Joshua Ortega (Necromancer).
This year, Emerald City ComiCon will have available four Top Cow exclusives: an ECCC 2010 limited edition wrap-around variant of Angelus #2 (by Marz and Stjepan Sejic), an ECCC 2010 limited edition variant cover of The Darkness #83 by Whilce Portacio (with interior story by Hester and Broussard), a limited edition Witchblade ECCC print by Broussard and Sunny Gho, and the official ECCC 2010 t-shirt featuring the art of Broussard. The latter two exclusives will be available at the official Emerald City ComiCon booth.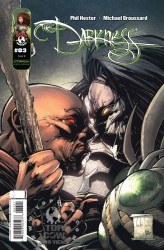 Also available at the Top Cow booth (#304) are free preview books, prizes and other giveaways. Fans interested in sketches from the artists should stop by at the beginning of each day to acquire a sketch ticket.
For more information on the show, please visit www.emeraldcitycomicon.com.  You can also receive up-to-date information including an Emerald City ComiCon signing schedule by following Top Cow on Twitter: @TopCow (www.twitter.com/topcow).
About Top Cow Productions Inc.
Top Cow Productions, Inc. (www.topcow.com), a Los Angeles-based entertainment company, was founded in December of 1992 by artist Marc Silvestri, who also co-founded Image Comics earlier that same year. Top Cow currently publishes its line of comic books in 21 languages in over 55 different countries. The company has launched 20 franchises (18 original and two licensed) in the industry's Top 10, seven at #1, a feat accomplished by no other publisher in the last two decades. Its flagship franchise, WITCHBLADE, was TNT's #1 original film of 2000 and the subsequent TV series was released on DVD on July 29, 2008. A feature film, co-produced by Platinum Studios, Inc. and Arclight Films, is slated to begin production in Australia with director Michael Rymer. WITCHBLADE is also the first American property to be fully adapted in Japan as an original anime and manga by Studio GONZO in 2006. Top Cow's other flagship property, THE DARKNESS, was developed into a major next-generation video game release by Starbreeze and 2K Games and achieved platinum sales status. WANTED, an Eisner-nominated miniseries published by Top Cow from 2003-2005, is now a major motion picture from Universal Pictures starring Angelina Jolie, James McAvoy and Morgan Freeman. Virtually all of Top Cow's other properties are in development as feature films, live-action television, animation or video games. Top Cow has also successfully licensed and merchandised its franchises into toys, statues, clothing, lithographs, puppets, posters, magnets, shot glasses, lighters, lunch pails, wall scrolls, mouse pads, die-cast cars, calendars, Christmas ornaments, Halloween masks, trading cards, standees, video games and roleplaying games.