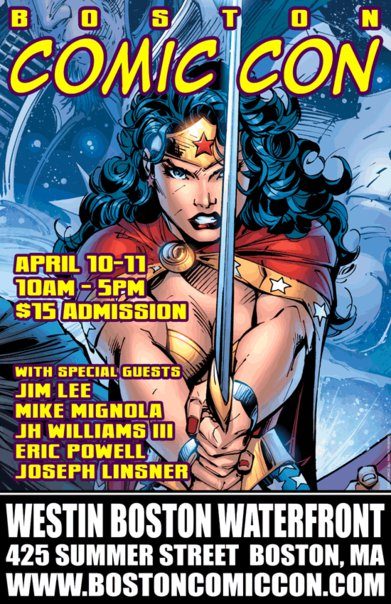 Boston Comic Con is pleased to announce yet another round of guest additions for their April 2010 show. New England's largest comic book conventions bring even more stellar creators to meet their fans! More details about Q & A panels, art portfolio reviews, and costume contests to be announced soon!
Read more about our guests!
Joseph Michael Linsner is celebrating the twentieth anniversary of creating Dawn with a stop at the Boston Comic Con! To commemorate the occasion he is offering a limited edition print that is sure to sell out. His pinup style is a huge hit with fans and collectors worldwide. Linsner has also worked on Wolverine/Black Cat: Claws and is the current cover artist for Dark Horse's Conan series.
JH Williams III is an amazing illustrator known for his work on Promethea, Desolation Jones, Seven Soldiers of Victory, and many, many covers. With an art style that is constantly evolving, Williams continually pushes the boundaries of storytelling and design. His recent work on Detective Comics featuring Batwoman has garnered a heap of critical praise. Don't miss this rare talent!
Eva Hopkins collaborates with fellow guest Joseph Michael Linsner as the co-colorist on Dawn and co-creator of Dark Ivory. Additionally, Eva has self-published Fear of Flight, an anthology of indie comics, and established Luna Muse Studios.
Mike Norton is one of the hardest working artists in the business. He is currently penciling both Green Arrow/Black Canary and Booster Gold. And when he finds the time, he does the occasional issue on titles such as Queen & Country, The Power of Shazam, and many more.
Franco Aureliani is the writer of the popular kid-friendly DC Comics title Tiny Titans. He is also the co-creator of Patrick the Wolf Boy. Make sure to bring the kids!
Mike Huddleston is the co-creator and artist of ONI's Coffin. Huddleston's work has been featured in Image's Deep Sleeper, DC's Harley Quinn, and Vertigo's Mnemeovore. Mike's most recent books include Gen 13 and When Zombies Attack!
Boston Comic Con is working diligently to bring the very best comic book show to New England fans. Previously announced guests include Jim Lee, Mike Mignola, Eric Powell, Ben Templesmith, Bill Sienkiewicz, Billy Tan, Cameron Stewart, Christopher Golden, Craig Rousseau, Jim Mahfood, Jim Starlin, Joe Jusko, Joe Quinones, Mark Chiarello, Michael Golden, Norman Lee, Skottie Young, Steve Rude, Pat Broderick, and many more! Tell your friends!!
The Boston Comic Con is in its fourth year of producing independent comic book shows and is committed to bringing the biggest and best comic book show to New England. The Boston Comic Con hosts over 22,000 square feet of vendors selling comic books, toys, posters, trading cards, and other pop culture memorabilia. The event will be held Saturday April 10th and Sunday April 11th at the Westin Waterfront, 425 Summer Street, Boston, MA from 10am to 5pm. Admission is $15 each day. For more information please go to our website.