CANCELLED! 
From Larry's newsletter:
BAD NEWS
Rob Guillory will NOT be signing this Saturday. Couldn't be helped.
GOOD NEWS
I rescheduled it. He will however be the guest at my next Westford Show, Sunday, November 29th.
Rob Guillory, artist on Image Comics Chew, signs at Larry's Wonderful World of Comics this Saturday August 8th noon-3pm.
Chew is a new ongoing series from writer John Layman and artist newcomer Rob Guillory. The comic series follows the adventures of Philadelphia Police Department Detective Tony Chu, a cop with a weird secret.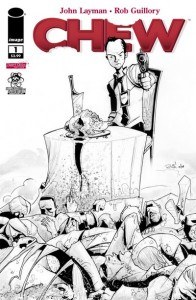 Tony Chu is Cibopathic, which means he gets psychic impressions from whatever he eats. The result is hilarious Crime noir/sci fi comic. The book has sold out nationwide three times in the few months it has been out.
Rob is thrilled at the opportunity to meet and greet New England fans 08-08 12noon -3pm. He will be signing comics for free, selling art and sketchbooks and doing commissioned sketches.
Larry's Wonderful World of Comics will have plenty of copies of Chew #1, #2 & #3 on hand as well as a Special limited printing of Chew #1 produced by Image Comics special for this event.
Larry's Wonderful World of Comics, 66 Lakeview Ave., Lowell, MA
978-459-5323
larryscomicsinc@aol.com
www.larryscomics.net