Press Release:
Legendary Japanese actor Kenpachiro Satsuma, best known for portraying Godzilla from 1984-1995 (the Heisei era), will be in attendance for this year's show to share his tales and challenges of portraying the King of Monsters!
Man in the suit legend Kenpachiro Satsuma began his career by by portraying giant monsters like Hedorah and Gigan as they battled Godzilla. In 1984's RETURN OF GODZILLA, he would land the title role of Godzilla and continue as the King of Monsters for the next 11 years. Being king isn't easy as Satsuma would often suffer any number of physical ailments due to the intense heat and lack of oxygen in the suit. But it was all worth it as he bravely battled Biollante, King Ghidorah, Mothra, Destoroyah, and many more!
Big Wow! ComicFest - The Original Artist Friendly Convention – returns to San Jose May 17th & 18th, 2014, bringing two great days of Comic Book, Anime/Manga, Art, Sci-Fi, Fantasy, Gaming and Cosplay FUN! Many of the country's best vendors of all things cool and collectible will tempt your wallets with the perfect gifts for Geek, Fans and True Collectors, everywhere! Big Wow! ComicFest is the only major comics event in the San Francisco Bay Area this year.
Be sure to follow us on both Facebook and Twitter to stay up-to-date on all our upcoming announcements!
Convention Scene is happy to team with Snickers Brand to bring you this latest contest. One luck winner will receive the Snickers Movie Prize Pack that includes a $15 Fandango gift card and 5 Snickers bars.
About Snickers Monster Satisfaction

Who hasn't felt like a rampaging menace at least once in their lives? Because let's face it, You're Not You When You're Hungry! Even Godzilla is a regular, cool guy who can hang with his friends, just watch out for that sudden spell of hunger! Check it out in the new Snickers commercial that will aired during the 86th Annual Academy Awards. Only SNICKERS – and its delicious blend of chocolate, peanuts, caramel and nougat – can provide #MONSTERSATISFACTION and tame the savage beast!
To celebrate the release of the new Snickers "You're Not You When You're Hungry" commercial, Snickers wants to hear about your most satisfying movie experience. So tweet with the #MONSTERSATISFACTION hashtag about that incredible first date, or the first time you saw your favorite movie of all time on the big screen.
This contest is sponsored by Snickers.
Rules: Each household is only eligible to win One (1) Snickers Movie Prize Pack containing 5 Snickers Bars and 1 $15 Fandango Gift Card via blog reviews and giveaways. Only one entrant per mailing address per giveaway. If you have won the same prize on another blog, you will not be eligible to win it again. Winner is subject to eligibility verification.
The prize will be sent via FedEx or USPS. No P.O. Boxes please.
Director Gareth Edwards signs at Forbidden Planet on Friday 28th February at the Forbidden Planet London Megastore from 6:00 till 7:00 pm!
Press Release:
Forbidden Planet in association with Empire Magazine are delighted to welcome Godzilla director GARETH EDWARDS, signing copies of Empire to celebrate the magazine's exclusive cover reveal of Godzilla, on Friday 28th February at the Forbidden Planet London Megastore from 6-7pm.
In Summer 2014, the world's most revered monster is reborn as Warner Bros. Pictures and Legendary Pictures unleash the epic action adventure Godzilla.
From visionary new director Gareth Edwards ("Monsters") comes a powerful story of human courage and reconciliation in the face of titanic forces of nature, when the awe-inspiring Godzilla rises to restore balance as humanity stands defenceless. The film stars Aaron Taylor-Johnson, Ken Watanabe, Elizabeth Olsen, Juliette Binoche and Sally Hawkins, with David Strathairn and Bryan Cranston. Edwards directs from a screenplay by Max Borenstein, story by David Callaham, based on the character "Godzilla" owned and created by TOHO CO., LTD. Thomas Tull and Jon Jashni are producing with Mary Parent and Brian Rogers. Patricia Whitcher and Alex Garcia are serving as executive producers, alongside Yoshimitsu Banno and Kenji Okuhira.
Forbidden Planet London Megastore
179  Shaftesbury Avenue, London, WC2H 8JR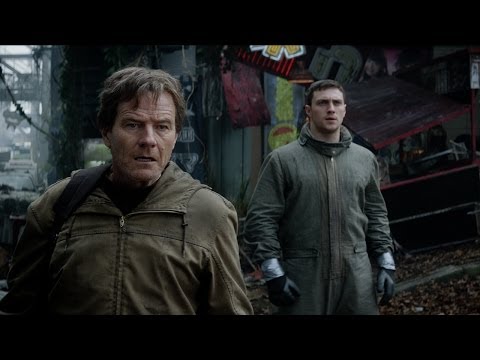 Writer John Layman signs 'Chew' Comics and Graphic Novels at the Forbidden Planet London Megastore on Monday 17th March from 6:00 to 7:00pm!
Tony Chu is a cop with a secret. A weird secret. Tony Chu is Cibopathic, which means he gets psychic impressions from whatever he eats. It also means he's a hell of a detective, as long as he doesn't mind nibbling on the corpse of a murder victim to figure out whodunit, and why. It's a dirty job – and Tony has to eat terrible things in the name of justice. And if that wasn't bad enough, the government has figured out Tony Chu`s secret. They have plans for him… whether he likes it or not.
John Layman is the creator, writer and letterer of CHEW, the New York Times best-selling, Harvey Award and multi-Eisner Award winning cannibal cop comedy series from Image Comics. Layman was an editor for WildStorm Production and has written or lettered for every major publisher in comics for the last decade and a half. CHEW was the 2011 Eisner winner for Best Continuing Series, and winner of both the Eisner and the Harvey in 2010 for Best New Series. Currently, he's finishing a run on Detective Comics for DC and working on the upcoming Batman Eternal Weekly. He's written Aliens, Mars Attacks, Godzilla, Thundercats, Gambit, Scarface, Red Sonja, Marvel Zombies Vs. Army of Darkness, House of M: Fantastic Four, the Marvel Identity Wars Annuals, Stephen Colbert's Tek Jansen… and a whole lotta other stuff. He loves kitties, Legos and Grand Theft Auto.
Forbidden Planet London Megastore
179  Shaftesbury Avenue, London, WC2H 8JR
Jeff Kline, known for cartoons like GI Joe Renegades, Transformers Prime, Big Guy and Rusty, Godzilla, and Extreme Ghostbusters, just to name a few, appears at Coast City Comics on Saturday January 25th at 3pm to promote his new comic Indestructible and his new company, Darby Pop Publishing.
Coast City Comics
634 Congress St, Portland, ME 04101
October 31, 2013 by Colin Solan
Filed under Animation, California, Collectibles, Comic Books, Convention News, Movies, Other, Science Fiction and Fantasy, Television, Video Games
Press Release:
Over the weekend of November 1st – 3rd downtown Los Angeles will be taken over by one of the fastest growing conventions: Stan Lee's Comikaze Expo. For IDW's first appearance at the show, the publisher is bringing along some very special guests and exclusives.
On Saturday November 2nd at 10:30 AM in room 308AB join Editor-in-Chief Chris Ryall, Special Projects Editor Scott Dunbier, and IDW President Greg Goldstein as they set the stage for IDW's upcoming 15th year anniversary. Bring some questions, and come prepared for a lively discussion in a unique town hall format. You just might walk away with a free book! With sneak peeks, and a few tricks up their sleeves, this will not be a panel to miss!
Be sure to stop by the IDW booth (712) to pick up the Comikaze exclusive variant of Mars Attacks/Judge Dredd #3 by John McCrea featuring Stan (The Man) Lee! Along with this special $10 variant, IDW will have a library's worth of your favorite books to stock up on! And watch the IDW Facebook and Twitter feeds for special deals on books throughout the show!
Throughout the convention the IDW booth will also host a number of great signings:
Friday November 1st
3:00 – 4:00 Godzilla: Rulers of Earth – Chris Mowry
5:00 – 6:00 Kill Shakespeare – Conor McCreery
Saturday November 2nd
12:00 – 1:00 Transformers – Livio Ramondelli, Mairghread Scott
1:00 – 2:30 The Other Dead – Joshua Ortega, Digger T. Mesch, and Special Guest Kevin Eastman (of TMNT fame!)
3:00 – 4:00 My Little Pony – Tony Fleecs
4:00 – 5:00 Kill Shakespeare – Conor McCreery
5:00 – 6:00 Amelia Cole & The Unknown World – D.J. Kirkbride
Sunday November 3rd
12:00 – 1:00 Transformers – Livio Ramondelli, Mairghread Scott
1:00 – 2:00 My Little Pony – Tony Fleecs
5:00 – 6:00 Godzilla: Rulers of Earth – Chris Mowry
Stan Lee's Comikaze is set to have its biggest year yet, and IDW is excited to be a part of it!
About IDW
IDW is an award-winning publisher of comic books, graphic novels and trade paperbacks, based in San Diego, California. Renowned for its diverse catalog of licensed and independent titles, IDW publishes some of the most successful and popular titles in the industry, including: Hasbro's The TRANSFORMERS, G.I. JOE and MY LITTLE PONY; Paramount's Star Trek; Nickelodeon's Teenage Mutant Ninja Turtles; 2000AD's Judge Dredd; The Rocketeer; Toho's Godzilla; Wizards of the Coast's Magic: The Gathering and Dungeons & Dragons; and the Eisner-Award winning Locke & Key series, created by best-selling author Joe Hill and artist Gabriel Rodriguez. IDW is also home to the Library of American Comics imprint, which publishes classic comic reprints, Yoe! Books, a partnership with Yoe! Studio, and the multiple award-winning Artist's Edition imprint.
IDW's critically- and fan-acclaimed series are continually moving into new mediums. Currently, Jerry Bruckheimer Films and Disney are creating a feature film based on World War Robot; Dwayne "The Rock" Johnson and Warner Brothers are producing a film based on Ashley Wood's Lore; and Michael Bay's Platinum Dunes and Sony are bringing Zombies vs. Robots to film.
Jeff Zornow signs at Comic Book Jones on Wednesday October 30, 2013!
Comic Book Jones
2220 Forest Avenue, Staten Island, NY 10303-1700
Meet Matt Frank, the artist behind IDW's new comic Godzilla: Rulers of Earth, at Bedrock City Comic Co. on Saturday, August 24, 2013 from noon till 4:00 pm!
Bedrock City Comic Co.
4602 Washington Ave, Houston, Texas 77007-5434
Artist Matt Frank appears at Austin Books & Comics on Wednesday, June 26th from 4 to 7pm for the release of his new comic, Godzilla: Rulers of the Earth #1!  He's been eating, living, and breathing kaiju all his life, so stop by and ask him anything about any giant monster ever!  He probably knows the answer.
5002 N. Lamar Blvd, Austin, TX 78751
Chris Schweizer, Tony Fleecs, Matt Frank, Chad Thomas, Evan Bryce, and Yehudi Mercado appear at Rogues Gallery on Saturday, June 22nd from 10:00 am until 6:00 pm!
Press Release:
All-Ages Awesomeness 3 is Saturday, June 22nd! It's our third annual all-ages events, featuring a whole bunch of creators who will sketch, sign and talk with kids about making comics!
Our guests this year are:
Tony Fleecs - Artist on My Little Pony: Rainbow Dash, plus lots more!
Matt Frank - Artist on Godzilla: Rulers of Earth and Transformers Spotlights, designer for Kaiju Combat and lots more!
Chris Schweizer - Creator of the Crogan Adventures series, covers for Adventure Time and lots of other cool projects!
Chad Thomas - Worked on Archie's Megaman and has done covers for Kaboom!'s Adventure Time, plus lots more!
Evan Bryce – Wide variety of comics work, art teacher and some of the wildest, coolest color prints in the universe!
Yehudi Mercado – Creator of Buffalo Speedway and Pantalones, TX!, with a ton of cool prints featuring Adventure Time and lots more!
The event will run from 10 AM – 6 PM! Tell your friends! Tell your enemies! The coolest all-ages event all year!
Rogues Gallery
1601 S IH-35 #360, Round Rock, TX 78664