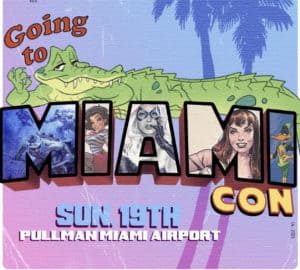 Due to overwhelming popularity, the 4th Annual The Miami Con – Comic Book and 
Comic Art Show, will take place on Sunday, March 19th from 10 AM to 5:00 PM at the Pullman Miami Hotel, 5800 Blue Lagoon Drive, Miami FL 33126.
The Miami Con brings together the comic book and comic art community in South Florida and beyond, attracting some of the industry's most sought after and popular artists from around the country, who have worked for DC Comics, Marvel, and Star Wars projects, among many others.
This year's 2023 line-up includes huge fan favorites, comic legend Jose Delbo, DC and Star Wars artist Stephane Roux, Marvel cover artist Jeff Dekal, Eric Bonhomme, Andres
Labrada and many others, including the dashing cosplayer and comic book cover model Jennifer Van Damsel.
Comic book dealers throughout the US will attend, including Heritage Auctions, HeroesCon / Heroes Aren't Hard to Find, ComicConnect, ComicLink, Tomorrow's Treasures, Big Apple Con and many more. Come and see truly rare collections of Golden and Silver Age comic books, in addition to many other local and national exhibitors.
Admission to the event is only $10 and is open to the public. Come on down for some amazing opportunities to see art, get art commissions, purchase and peruse vintage comics, and fully immerse in pop culture.
The Miami Con is the brainchild of the brothers team of Mark Fornaris and Carl
Fornaris, along with George Alfonso, all members of The Miami Comic Book League, a not-for-profit organization that seeks to bring together comic book and comic art enthusiasts.
EVENT DETAILS
Date: Sunday, March 19, 2023, from 10 AM to 5:00 PM
Location: Pullman Hotel Miami, 5800 Blue Lagoon Drive, Miami FL 33126
Cost: $10.00
Website: Get ALL the details here – www.themiamicon.com
View this post on Instagram