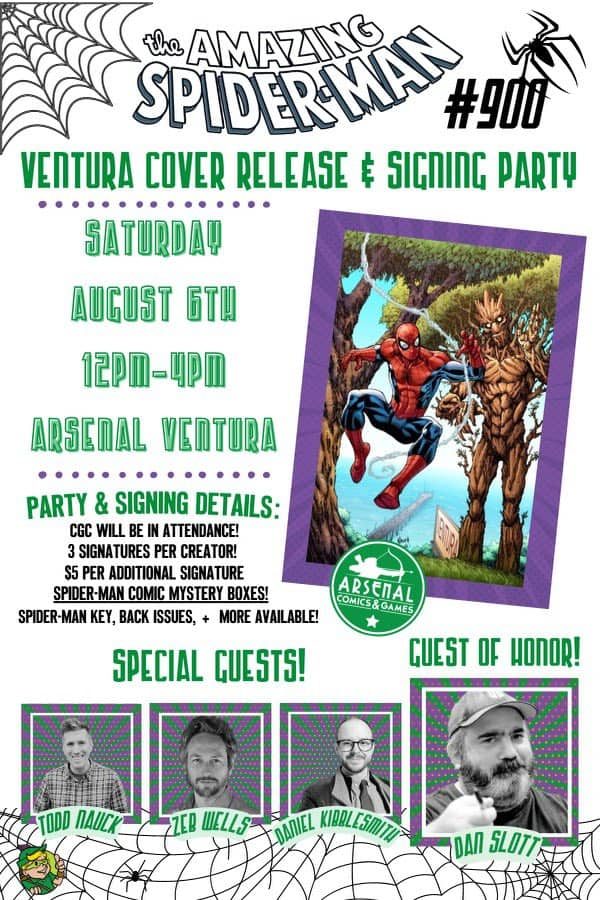 The Arsenal Exclusive Amazing Spider-Man #900 Ventura cover releases Wednesday July 27th and on Saturday August 6th we'll be hosting a release party for the comic at Arsenal Ventura from 12pm to 4pm! RSVP on Facebook!
Come meet special guests Zeb Wells- the lead writer of ASM #900, Daniel Kibblesmith- writer of a short story that's in #900, and Todd Nauck- the cover artist of our exclusive! If that wasn't enough to make you want to attend, we will be having Dan Slott as our Special Guest of Honor!
Our release party isn't just a celebration for bringing Spider-Man to Ventura on an official Marvel comic cover but a day to celebrate all things Spider-Man! August is Spidey's 60th birthday! Happy birthday Spidey! They'll be tons of Spider-Man KEY issues and back issues on hand for the big day AND Mystery Boxes! Yes, that's right, Spider-Man mystery boxes!
See you Saturday August 6th 12pm to 4pm at Arsenal Ventura 3431 Telegraph Rd Ventura CA 93003