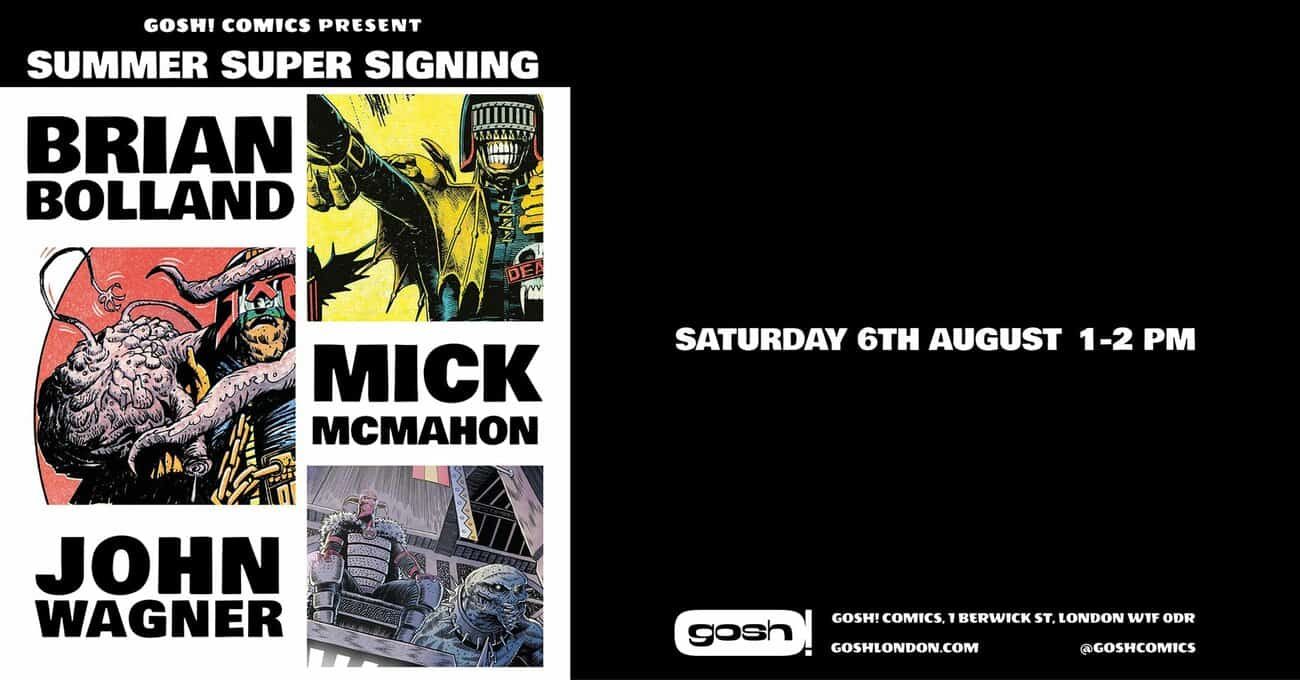 Gosh Comics has an action packed afternoon on Saturday 6th August, 1-2pm, when we welcome three comics legends to the shop for a Summer Super Signing. Brace yourselves, because Brian Bolland, Mick McMahon and John Wagner will all be here!
Superstar artist Brian Bolland is the master behind many iconic Judge Dredd stories as well as an equally impressive amount for DC Comics, including of course Batman: The Killing Joke. He's drawn innumerable covers over the years, from Wonder Woman to The Invisibles and everything in between, and of course his Actress and the Bishop and Mr Mamoulian strips are firm favourites of ours.
Mick McMahon is one of British comics most talented and influential artists, another of the ground zero art team that made 2000AD the success it became: his Dredd is one of the definitive portrayals of the character. McMahon also stamped his influence on characters such as Slaine and the ABC Warriors, and his ever-evolving style has since been seen on the likes of Batman, Tank Girl and Hellboy.
It's safe to say that John Wagner is one of the most important writers in the history of British comics, co-creating the likes of Judge Dredd & Strontium Dog, among many, many more. Beyond the pages of 2000AD, Wagner has worked on characters such as Batman, Doctor Who and Boba Fett. He continues to make a mark on the comics industry with his latest genre-bending sci-fi sport title Rok of the Reds, in collaboration with fellow UK comics legend Alan Grant and artist Dan Cornwell.
All three British comics icons will be signing here at Gosh! on Saturday 6th August, from 1-2pm. Save the date and don't miss the chance to meet these comic legends!
RSVP on Facebook!
Gosh Comics
1 Berwick St, SoHo, London W1F0DR
United Kingdom