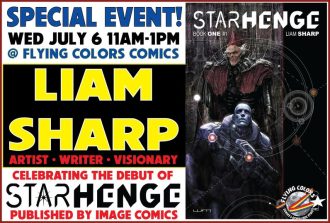 Writer/artist LIAM SHARP appears at Flying Colors Comics on Wednesday, July 6th from 11am – 1pm to debut his new STARHENGE series from Image Comics!
A future Merlin travels to 5th-century Britain to prevent monstrous time-traveling killer robots from robbing the universe of magic, and Amber Weaver's lively present-day narrative reveals how she becomes drawn into a war across time!
The Terminator meets The Green Knight in 30 enthralling story pages, setting the scene for this original epic inspired by the Arthurian sagas!
Flying Colors Comics
2980 Treat Blvd (at Oak Grove Rd), Concord, CA 94518
(925) 825-5410