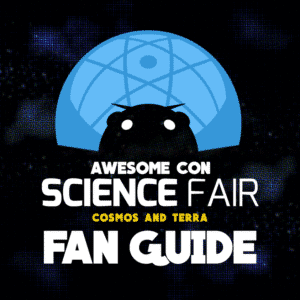 Awesome Con's wildly popular science-centric pavilion, Science Fair, returns to the region's premier comic and pop culture convention, Friday, June 3 to Sunday, June 5  at the Walter E. Washington Convention Center. Astronauts, scientists and entertainers will come together at the themed pavilion to connect science and technology with science-fiction and fantasy. Science Fair presents three days of special programming, where science meets science-fiction, celebrating technology, engineering, aerospace, astronomy and more. This year's Science Fair is back with not one but two full programming tracks exploring the Earth and the heavens: TERRA for Earth-based panels and COSMOS for Space-based panels. Science Fair: TERRA will explore Earth-based adventures from the icy Antarctic, to the murky depths of the ocean and back to the prehistoric times of the dinosaurs. Science Fair: COSMOS will venture to outer space where experts in the field will chat about dark matter, alien invasions and their journeys to the moon.
Awesome Con, now in its ninth year, is thrilled to welcome a range of leaders and experts from organizations that represent scientific advancement and education across numerous industries. Representatives from the National Science Foundation, NASA Space and Flight Center and Virgin Galactic and Virgin Orbit will lead programs and discussions throughout the weekend. Attendees of all ages will be able to engage at Q&A panels as well as hands-on tech demos and workshops, all focused on fostering awareness and enthusiasm for science, technology, engineering, and math (STEM).
Among highlights of this year's Science Fair programming is The Science Behind the Mandalorian (June 3 – Room 207B – Science Fair: COSMOS). The National Science Foundation brings together a team of experts to separate fact from fiction, examine the culture and learn about the mysterious warriors inside the helmet. For fans of Marvel's Shang Chi and the Legend of the Ten Rings, a special panel, The Science Behind the Ten Rings (June 4 – Room 207B – Science Fair: COSMOS), will dive deep into the science and significance behind the cultural phenomenon.
Dr. Mohamed Noor will give attendees a primer lesson on basic transmission and genetic ancestry testing, Genetics, Ancestry Testing, Race, and Star Trek (June 5 – Room 207B – Science Fair: TERRA). Fans can learn many of the fundamental underlying science concepts, and see how these concepts connect with each other and get applied in the Star Trek universe across the various series.
Four divisions of NASA will be represented at Science Fair and attendees can meet some of the talented women who work at NASA including Dawn Myers, Nayi Castro, Staci Tiedeken, Yasmina Martos, and Sabrina Thompson. From mission operations to public engagement, these women will host a special panel Women at NASA (June 4 –  11:30 AM – 12:30 PM – Room 207B – Science Fair COSMOS) and dive into what led them to the space agency, the sometimes crazy paths they took to get where they are today and the challenges they've faced.
Pop culture enthusiasts will enjoy a special panel on pop culture history in partnership with Smithsonian's highly anticipated upcoming exhibit Entertainment Nation. This can't-miss panel Pop Culture is History: Entertainment Nation at the Smithsonian (June 4 – 3:45 PM – 4:45 PM – Room 207A – Science Fair TERRA), will provide audiences with a sneak peek into the museum's pop cultural extravaganza.
Science Fair will take place during Awesome Con 2022 with no separate ticket required to attend events. Admission to Awesome Con includes access to attend Science Fair's panels, exhibits and events. For tickets to Awesome Con, visit www.awesomecon.com. For more information about Science Fair and full programming, please visit www.awesome-con.com/science-fair.