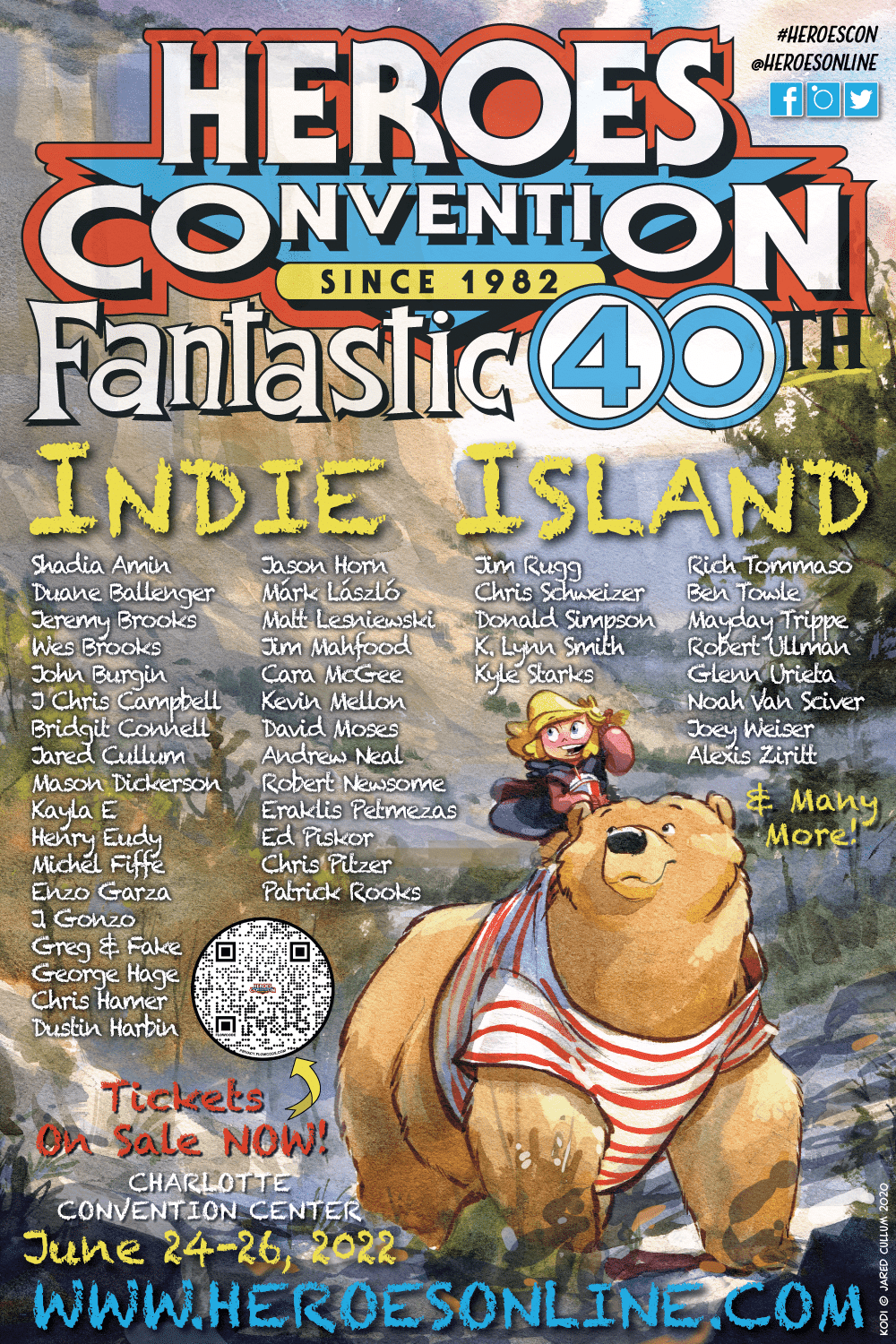 This is just a SAMPLING of the Incredible Talent that will be Featured in the 2022 INDIE ISLAND at the Fantastic 40th Anniversary Heroes Convention this June 24-26!
If you haven't bought your tickets for this year's show…what are you waiting for?! Get your tickets TODAY!
SHADIA AMIN | ii-TBA
The Amazing World of Gumball: The Storm, Valor 3, Alloy: Electrum
JEREMY BROOKS | ii-TBA
Ruby and Rubbish, Corpus Delicti, Radd Tuffman
JARED CULLUM | ii-TBA
Kodi, Fraggle Rock, Planet of the Apes, Firefly, Labyrinth, Dark Crystal
GREG AND FAKE | ii-TBA
Santos Sisters
CHRIS HAMER | ii-TBA
The Adventures of Byron, Variant Covers: Stabbity Bunny, Gutt Ghost
KEVIN MELLON | ii-TBA
Hit Monkey, Archer, Lovestruck, Heart, Suicide Sisters, Heart, LoveSTRUCK
RICH TOMMASO | ii-TBA
Dick Tracy, Black Hammer, Dry County, Spy Seal, Dark Cooridor
BEN TOWLE | ii-TBA
Four-Fisted Tales, Oyster War, Amelia Earhart: This Broad Ocean, Midnight Sun
ROBERT ULLMAN | ii-TBA
Atom-Bomb Bikini, Old-Timey Hockey Tales, Traffic and Weather
The HEROES CONVENTION was founded in 1982 by Shelton Drum, owner of Charlotte's Heroes Aren't Hard To Find comics shop. Since then the convention has become famous for its comics-first and family-friendly atmosphere, where fans can mingle directly with professionals and exhibitors. Boasting an incredible guest list built mainly on reputation and goodwill, HeroesCon is known nationwide as a "must" on the summer schedule, drawing fans, exhibitors, and creators from every region of the country to the Charlotte Convention Center.
We are busy confirming the greatest names in the comics industry for our 2022 show! We will post post guests announcements and updates right up to the week of the show! Stay up to date with regular visits to our FEATURED GUEST list on our website!
For the most up-to-date information, check out our blog, or sign up for the weekly Heroes Hotline newsletter. You can also follow us on Instagram, Twitter and Facebook!