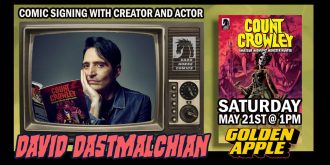 Golden Apple Comics hosts a celebrity signing in-store on Saturday May 21st at 1pm with the Polka-Dot Man himself David Dastmalchian!
He is not only a very talented actor from The Suicide Squad, Ant-Man, Dune, The Dark Knight, etc. but also a comic creator.
His Dark Horse Comic series Count Crowley: Amateur Midnight Monster Hunter is on it's second series and issue #2 is coming out in time for this live meet & greet. FREE Autographs on all comics books and trade paper backs of Vol. 1.
RSVP on Facebook!
Golden Apple Comics
7018 Melrose Avenue, Los Angeles, CA 90038
323-658-6047