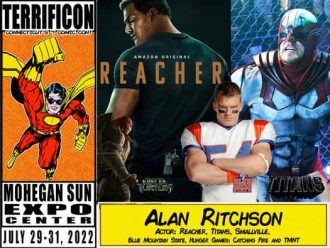 TERRIFICon welcomes actor Alan Ritchson to Mohegan Sun on July 29 – 31! Alan will be one of our many guests as we continue bringing the fans a show with their favorite actors and comic book creators, just as we have since 2012!
Tickets, hotel rooms, and 10' x 10' booths are all available right now on our website www.terrificon.com!
Here is more about our guest ALAN RITCHSON . . .
Millions of fans watched Alan become the face of Jack Reacher recently starring in the Amazon.com's record breaking series Reacher! "Reacher" is the first Prime Video TV series to top Nielsen's streaming video on demand rankings. Reacher outperformed programs like Hulu's Pam & Tommy, Netflix's Sweet Magnolia, and The Book of Boba Fett on the Disney+ streaming service. Fans also know Alan for his superhero roles as Aquaman on Smallville, and Hawk on DC'S TITANS!!! ~ HBO MAX based on the DC Comics The New Teen Titans.
Alan Ritchson has carved a space for himself on both the large and small screens since he made the trek from a small town in Florida to Los Angeles. Alan has can be seen as the District1 victor, Gloss, in Catching Fire Movie; the second installment of the hugely successful The Hunger Games franchise. He also portrayed the cool-but-crude Raphael in the Michael Bay produced reboot of TMNT Movie.
Alan Michael Ritchson was born in Grand Forks, North Dakota, to Vickie (Harrell), a high school teacher, and David Ritchson, a U.S. Air Force Chief Master Sergeant. He is of Czech, English, and German descent. Frequently relocating as the middle son of a military family, Alan learned to adapt and entertain in order to build friendships in new and unfamiliar environments. Certainly this has been a key ingredient in his success so far in the industry.
Ritchson has also taken on grittier leading man roles in the independent film market with the modern-day western "Rex" and the dramatic love story of "Steam" alongside Ally Sheedy.
In contrast, he also made quite a comedic impression with his love-to-hate-him character of Thad Castle on the football comedy Blue Mountain State. He parlayed his comedic skills to work with Rebel Wilson in her CBS pilot Super Fun Night.
In addition to his acting repertoire, Alan also writes, produces and is a singer/songwriter.