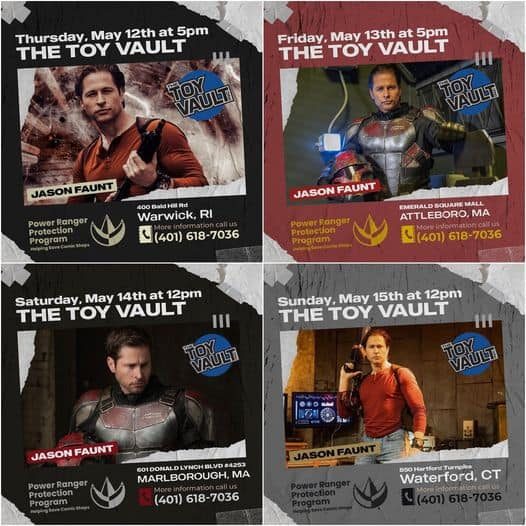 The Toy Vault is proud to announce that Jason Faunt Fan Site is going to be visiting FOUR of our Locations this May!
PLEASE NOTE THE NEW DATES FOR HIS APPEARANCES BELOW!!!
Thursday May 12th at 5PM – Toy Vault At Warwick Mall
Friday May 13th at 5pm – Toy Vault at the Emerald Square Mall
Saturday May 14th at 12PM – Toy Vault at Solomon Pond Mall
Sunday May 15th at 12PM – Toy Vault at Crystal Mall
Jason Faunt is an American actor. He is best known for the role as Wesley Collins in Power Rangers Time Force, as well as his descendant Alex, the former Red Time Force Ranger. In 2022, Faunt will play Connor in Legend of the White Dragon alongside his Rangers co-stars Jason David Frank, Yoshi Sudarso, Chrysti Ane, and Ciara Hanna which is not related to Power Rangers Franchise and takes the mature tone of the film. Directed By Aaron Schoenke.
This signing event with The Toy Vault is sponsored by Rhode Island Comic Con – Altered Reality Entertainment and is part of the Power Rangers Protection Program.